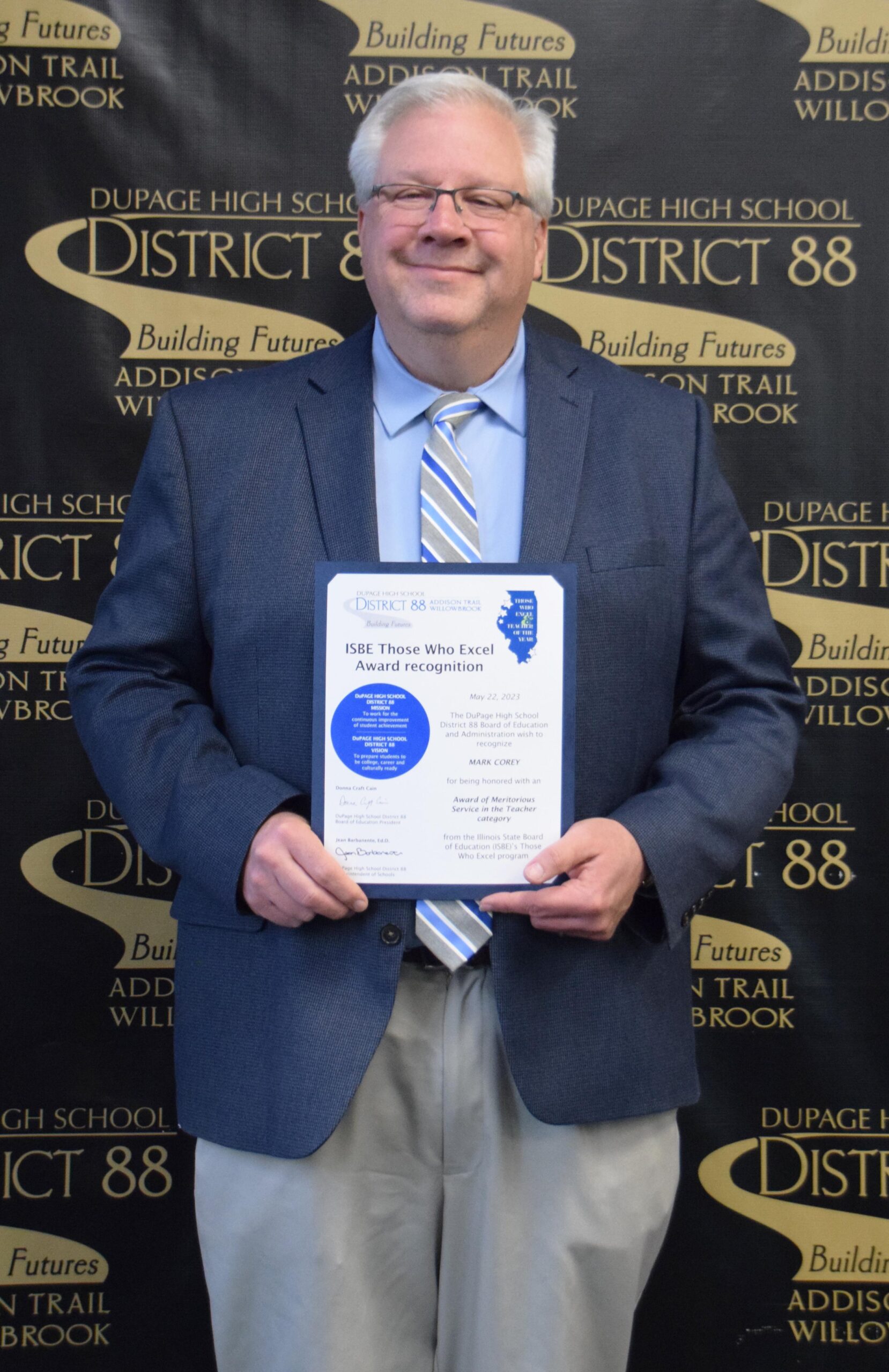 On Wednesday, Oct. 25, Addison Trail hosted its annual Fine Arts Showcase.
The event featured performances by Guitar Ensemble, Symphony Orchestra, Chamber Orchestra, Blazer Choir, Concert Choir, Marching Blazers and Orchesis, and members of the Theatre Department served as emcees for the evening. An exhibition of student artwork also was displayed.
It was a highlight of the showcase when AT Music department head and band director Mark Corey was recognized by District 88 superintendent Dr. Jean Barbanente for his nearly 30 years of service to the District 88 learning community. Corey will retire at the end of the 2023-24 school year. He was named as an Illinois State Board of Education (ISBE) Those Who Excel award winner last year (he received an Award of Meritorious Service in the Teacher category).
During Corey's time with the school, enrollment in band has nearly tripled, and two jazz ensembles have been added. Under Corey's direction, Addison Trail ensembles have performed at numerous festivals and venues throughout the U.S.
Along with teaching at Addison Trail, Corey leads a music education course at Elmhurst University that focuses on integrating technology with music instruction. He also serves as a consultant, facilitator and trainer for integrating curriculum design with the internet, developing online content to supplement the traditional classroom experience.
As a freelance musician, Corey's performing credits include numerous local engagements as a sideman for various bands, as well as jingles for national campaigns. He has played with Nelson Riddle, Curtis Mayfield, Tony Bennett, Natalie Cole and Aretha Franklin.
Corey has been awarded the Chicagoland Outstanding Music Educator Award and is a member of the National Association for Music Education (NAfME), National Band Association (NBA) and Illinois Music Education Association (ILMEA), where he has been an audition and festival host, All-State Auditions Chair, District Band Representative, District President and State President. He is on the Teachers Advisory Panel for MusicFirst Classroom as well, which is an online suite of music applications designed to deliver instruction and assessment of musical skills in an online format.