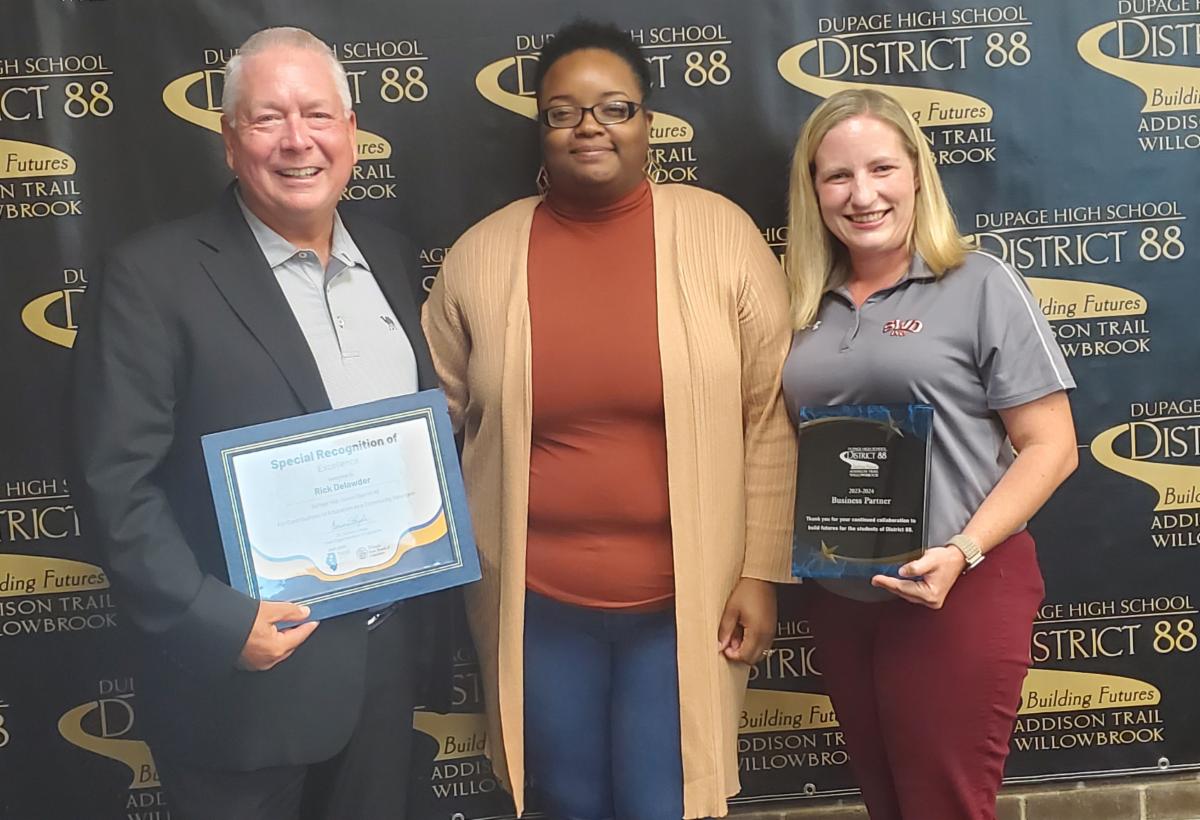 During its Sept. 25 meeting, the District 88 Board of Education recognized SWD Inc., a manufacturing company in Addison, as one of its a Business Partners and gave the company special recognition. Those who attended from SWD Inc., were the president Rick Delawder, director of human resources Erin Stickland and training coordinator Shannon Bennett.
    District 88 School Board president Donna Craft Cain introduced superintendent Dr. Jean Barbanente.
    "We are thrilled to reestablish our Business Partner program, which recognizes businesses and organizations for their support in building futures for our students and helping to accomplish our mission and vision," said Barbanente. "We know these collaborations are vital to ensure our students are successful, and we truly value and appreciate these partnerships.
    "One of our top priorities is to remove barriers for all students to help them access employment and build positive futures. The focus is to connect them with viable short-term and long-term career options and work-based learning that can provide a supported pathway through their college pursuits."
    Barbenente went on to say that District 88 had established numerous apprenticeships, internships and vocational training opportunities for its students. Currently this semester, there are 189 students enrolled in these courses.
    She added that District 88 was always seeking to development more partnerships with local businesses and those interested can visit dupage88.net/BusinessPartnerships.
SWD Inc. makes a real difference to young students
    "Not only does SWD Inc. offer one-of-a-kind, real-world experiences for our students, but the company also provides competitive employment for several District 88 students," Barbanente went on to say. "One of those students is Brandon Zirkle, who graduated from Addison Trail in 2017 and attended the district's Transition Program. Zirkle shared his thoughts on SWD Inc. and owner Rick Delawder."
    Barbanente read the young man's story:
    "'I was born with cerebral palsy and was told I might never walk or talk. Today, I've not only graduated from high school, but I am employed full time at SWD Inc. thanks to Mr. Delawder. I drive the forklift and help with shipping and receiving on the docks. It has been an amazing experience, and I can't say enough good things about Mr. Delawder.
    'I know I'm different and have disabilities, and to know there's someone out there like Mr. Delawder who wants kids like me to work for his company means a lot. Mr. Delawder is a lovely person and treats us all extremely well. He is friendly, generous and respectful, and he often gives us lunch and hosts picnics for us. He has taught me many job and life skills such as confidence, responsibility and what the real world is like.
    'When I wake up each morning, I have a purpose and goals thanks to Mr. Delawder. He has provided so many opportunities for kids like me, and it's great to have someone like him help me and others get this far. I work hard every day to show my gratitude, and Mr. Delawder always appreciates my efforts.'"
    Barbanente told a story she learned from Mr. Santini about how Mr. Delawder and SWD Inc. had stepped up to help an Addison Trail student, who had fallen on hard times, forced to take care of her little sister rather than continue her education.
    "'She was in desperate need of a job, and another teacher at the school sent an e-mail asking for help for this alumna. [Mr. Santini] made a phone call to Mr. Delawder, and he told me to have her come in immediately for an interview, and they would even try to have her work in a department that was related to what she had been learning in school.'"
    In conclusion, Barbanente had this to say:
    "As you can see, it's difficult to find a company that's more involved and supportive than SWD Inc. They are the epitome of a Business Partner, and we truly thank them for all they do for our students, families and the community."