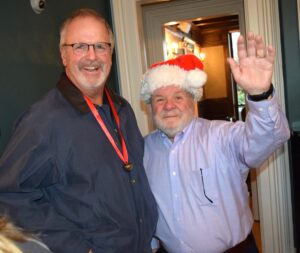 Rich Rosenberg passes on at age 83
By Dee Longfellow
"Elmhurst has lost two of its greatest business leaders. Not only were they each wonderfully successful in their commercial endeavors, they each gave so much back to the community. I think of Rich's Special Kids Day with Santa Claus and Willis [Johnson] could always be counted on for his support of many community efforts."
Those were the words of former Elmhurst Mayor Thomas D. Marcucci reflecting on Rich Rosenberg and Willis Johnson, who both passed away on Wednesday, Aug. 16. (See Johnson's obituary elsewhere in this issue.)
Richard Sidney Rosenberg passed away on August 16, 2023, surrounded by close family. He was born on June 22, 1940, to Gertrude and Sidney Rosenberg in Chicago. He was 83.
His spirit is carried on by his wife Barbara Rosenberg, his children, Marc (Melissa), Christopher (Jennifer) and Heather (Brian) Stalker, his grandchildren, Jackson, Olivia, Benjamin, Claire, Kate and Luke, and his brother, Robert.
Richard dedicated himself to serving others. After moving to Elmhurst in 1967, he quickly became a pillar in his community as both a small business owner and humanitarian. Richard founded non-profit organizations, Special Kids Day and Soles for Kids, impacting children and families all over the country and throughout the world.
"Rich's service to the Elmhurst Chamber of Commerce & Industry, Elmhurst City Centre and the Spring Road Business Association was deeply impactful," said ECCI president & CEO John R. Quigley. "His commitment to charitable causes, especially kids with special needs, was arguably unrivaled."
"Rich taught Sunday School for my kids and for their Confirmation," said Russ Weigand. "The kids loved him, he was quite a guy. Rich was so generous in many ways, Shoes for Africa, the [Special Kids Day] Christmas party for the disabled. And a true professional in his business. I will miss him. He was a great example."
Richard never sought recognition or fanfare for his selflessness, his actions were done solely for the betterment of others. He did everything wholeheartedly with a smile and open arms.
His life of service will never end, remaining rooted in the legacy he leaves behind. Richard put his heart into his community and his love belonged to everyone. Richard was most proud of his family of 14 and was happiest when the whole family was together. He had recently shared with them the sentiment that "no one will love you more than your family." Richard and Barbara would have celebrated their 58th wedding anniversary this September.
A memorial will be held at Christ Church of Oak Brook on Saturday, Sept. 2 at 2 p.m. In lieu of flowers, please consider a donation to Special Kids Day in Richard's honor.
"His Lord said to him, 'Well done, good and faithful servant; you were faithful over a few things, I will make you ruler over many things. Enter into the joy of your Lord.'" Matthew 25:23.
Arrangements provided by Elmhurst Community Funeral Home – The Ahlgrim Chapel. Info: (630) 834-3515 or www.elmhurstfh.com.