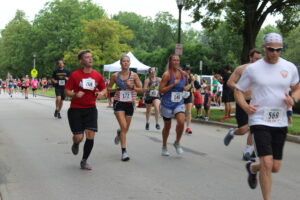 4 on the 4th packet pickup this weekend
    Get ready to run!
    Registration continues for the 18th Elmhurst Running Club 4 on the 4th race at 4on4th.com, and packet pickup times are set at Fleet Feet Sports in Elmhurst.
   The traditional 4-mile run on the Fourth of July (Tuesday) begins at 7:15 a.m., followed by the Kids (ages 5-12) 1K at 8:20. Both events start and finish on S. Prospect Ave., between Elmhurst University and Wilder Park
     Packet pickup will be available at Fleet Feet, 124 E. Schiller, from 10 a.m. to 6 p.m. Saturday, July 1; 11 a.m. to 4 p.m. Sunday, July 2; 11 a.m. to 4 p.m. Monday, July 3; and at Elmhurst University on race morning starting at 5:30 a.m.
     "We're really looking forward to a fun festive morning as we celebrate the Fourth of July in Elmhurst," race director Bob Richards of the Elmhurst Running Club said. "We strongly encourage registration as soon as possible so participants can take advantage of the packet pickup at Fleet Feet."
     The 4-mile route takes runners through residential neighborhoods and into the City Centre before returning to the finish on S. Prospect. A map is posted at 4on4th.com. The Kids 1K is entirely on S. Prospect between Church and Park.
     "We hope to see runners young and old, fast and slow," Richards said.
     For information and to register online, go to 4on4th.com.  In-person registration also will be possible at packet pickup and on race morning. Volunteer opportunities also are available.
     Gold sponsors this year are McGrath Elmhurst Toyota, Pilot Pete's Coffee and Treats and Fleet Feet Elmhurst.
     The not-for-profit Elmhurst Running Club donates a portion of race proceeds to local charities.