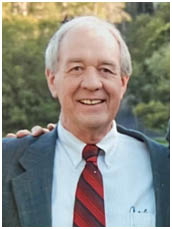 Dan Rogers died peacefully at home surrounded by his wife and children on March 23, 2023, after a long illness. He was 80 years old. Born on December 11, 1942, in Chicago, Dan was the eldest son of Norman and Margaret Rogers. Dan and his wife Carol made their home in Villa Park for 57 years where they raised their four children, a handful of good dogs, and one bad one.
Dan cared deeply about the town he lived in for so long. He watched it change and grow since childhood, growing up in neighboring Elmhurst and graduating in Willowbrook High School's first senior class. Serving as a volunteer firefighter was an early source of pride; Dan was a member of the Villa Park Fire Department until the volunteer force was phased out.
As the kids started leaving home, Dan started raising flowers. He found great joy in the garden and took pride in the award-winning and traffic-stopping landscape that he and Carol nurtured so carefully. He spent countless hours tending to and perfecting his awesome display. He enjoyed visiting with passers-by stopping to 'talk shop,' and inspiring people and gardens throughout the area with his green thumb. Dan's spring garden is now bursting forth, both in the early bloomers on Washington Street and the ever-growing, ever-loving family he leaves behind.
Dan was a passionate craftsman who loved working with his hands. He was highly skilled in multiple trades, working for years as a local contractor. His experience and expertise led him to corporate construction project management, an arena in which he shone. He understood how things fit together and worked to the highest standard throughout his career. With retirement, Dan always had a few irons in the fire around their historic home – a home he literally knew inside out.
Dan's end-of-life suffering was regrettably long and hard, and Carol's care was heroic and inspirational throughout. As his body failed him, he missed some simple pleasures the most – visiting his kids and their families, time in the garden, home carpentry projects, and smoking Camels on the deck with a cup of coffee. To honor Dan's wishes, his family and hospice team were able to bring him home where he was able to spend his final days.
Dan is survived by his wife of 59 years, Carol (nee Miene); Son, Chris (Kristen) of Portland, Ore.; Daughters, Jodi (Bob) Rogers-Reichensperger of Tower, Minn. and Dana (Chris) Rogers-Diamond of Brooklyn N.Y.; Daughter-in-law, Karen Sokol of Burlington Vermont; Brothers, James (Patty) Rogers, Sam Rogers, and Charles Rogers; and many nieces and nephews. He is also survived by 12 grandchildren and 8 great-grandchildren. He is preceded in death by his parents, by one sister Elizabeth Benedetto, and by his son Michael Rogers. The family would like to host a celebration of life later this summer per Dan's wishes.