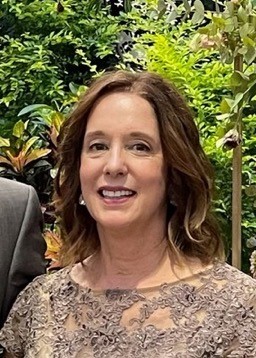 Karen Olivi Boozell, of Elmhurst, passed away the morning of March 12, 2023 at Ascension Alexian Brothers in Elk Grove Village. She was 63 years old. She was born on Monday, Aug. 17, 1959 at Little Company of Mary in Evergreen Park, to Adolph and Mary Jane Olivi.
Karen grew up in Roseland and Lansing and graduated from Thornton Fractional South High School. She then went on to attend Eastern Illinois University, where she met her husband, Mark Boozell. They were married on Dec. 22, 1984 and had two children, Marcus and Joe.
She had a passion for helping others and dedicated her professional and personal life to doing so. Karen worked in District 90 in River Forest for many decades as a special needs teacher and administrator, retiring in 2018. She made an immeasurable impact on countless students' lives.
Karen dearly loved her family and friends and had various hobbies and interests, including playing the flute at Visitation Catholic Church, where she was a faithful member, as well as tennis, bike riding, rescuing dogs, and of course, her beloved Chicago White Sox.
She was incredibly warm, caring, generous, motivated and adventurous. Karen can accurately be described as the glue of her family, immediate and extended, and she will dearly be missed by all.
Karen was preceded in death by her brother, Thomas Olivi.
She is survived by her husband, Mark Boozell of Elmhurst; her parents, Adolph and Mary Jane Olivi of Elmhurst; her children, Marcus (Suzanne) Boozell of Mount Pleasant, So. Car., and Joe Boozell (Olivia Toriumi) of Chicago; her sister, Terry Olivi (Jerry Duncker) of Chicago; as well as many nieces, nephews and close friends.
A visitation will be held on Thursday, March 16 from 4 – 7 p.m. on Elmhurst Community Funeral Home – The Ahlgrim Chapel, 567 Spring Rd. Funeral Mass will be held at 10 a.m. on Friday, March 17, at Visitation Catholic Church, 779 S York St. Interment at Queen of Heaven Catholic Cemetery, Hillside.
In lieu of flowers, memorial donations can be made in Karen's honor to the Leukemia and Lymphoma Society at givenow.lls.org; the Muscular Dystrophy Association at mdadonordrive.com; or the Chicago White Sox Charities at whitesoxcharities.givingfuel.com/general-donation.
Arrangements in care of Elmhurst Community Funeral Home – The Ahlgrim Chapel. For information, 630-834-3515 or www.elmhurstfh.com