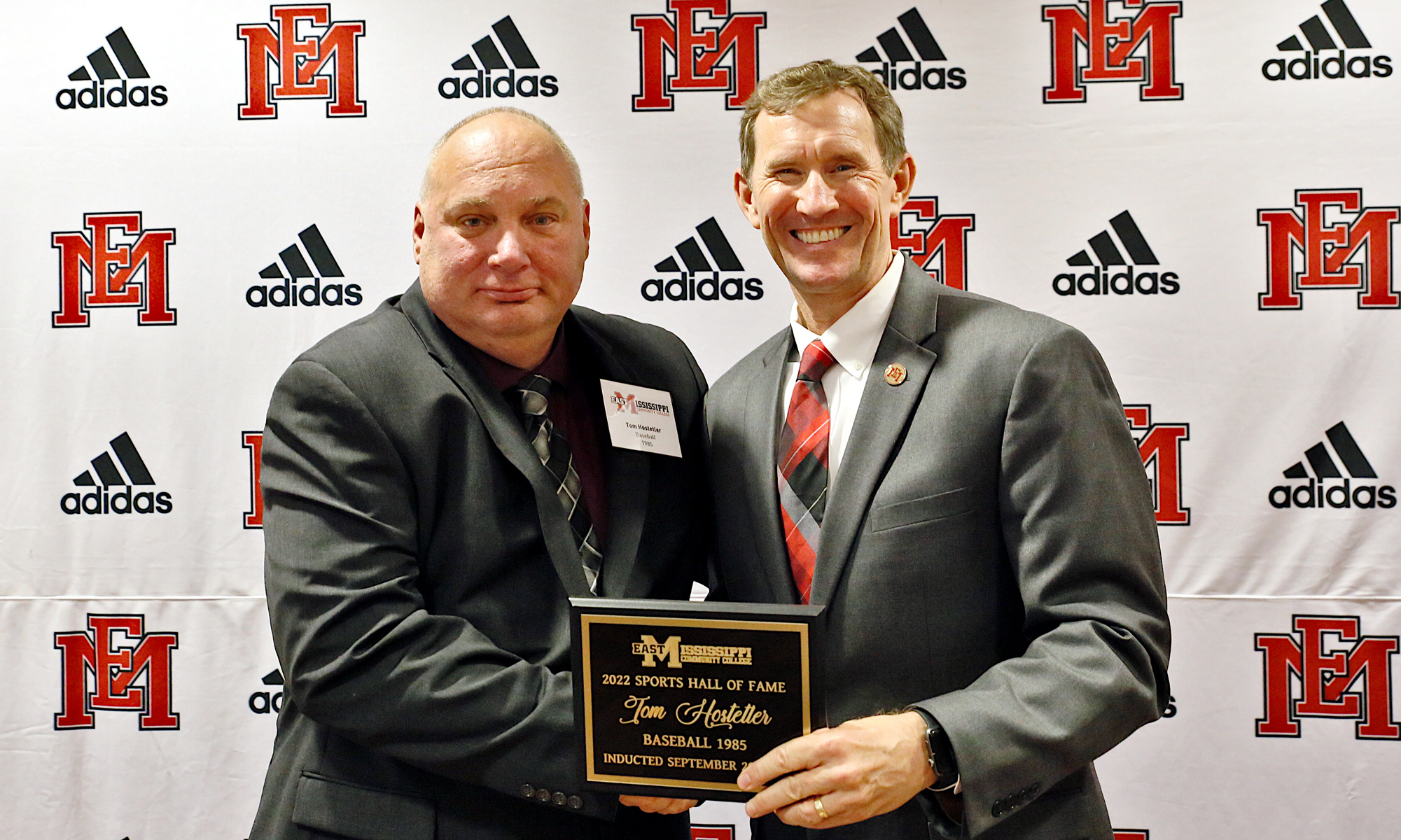 Veteran Addison police officer Tom Hostetler recently made the trek from his home in Illinois to Mississippi, where he was elected to the East Mississippi Community College (EMCC) Sports Hall of Fame. He took the trip to participate in induction festivities that took place during pregame and halftime activities of the home football game between the nationally eighth-ranked EMCC Lions and the fourth-ranked Rangers from Northwest Mississippi Community College on Thursday, Sept. 29.
"I'm guessing many people there in the Addison community don't realize that Officer Hostetler was previously a professional baseball pitcher and is a member of two Sports Halls of Fame in Mississippi," said David Rosinski, sports information director for EMCC.
Hostetler, who has worked with the Addison Police Department's Field Services Division for the past 27 years, was an outstanding pitcher at East Mississippi Community College during the 1985 season after transferring from Iowa Western Community College.
He was EMCC's top pitcher on the Lions' winningest baseball team ever and most recent conference championship ball club. The right-hander went 10-4 with 97 strikeouts in 82 innings pitched to earn all-state and team MVP honors for head coach Terry Thompson's 41-16 EMCC squad in 1985.
After getting selected in the 22nd round of the Major League Baseball Amateur Draft that year by the Boston Red Sox, Hostetler passed up the initial offer to continue his collegiate career by playing two seasons for Hall of Fame head coach Dave "Boo" Ferriss at Delta State University. While earning the Statesmen's Most Outstanding Pitcher honor twice, Hostetler capped his collegiate career by being named an American Baseball Coaches Association All-American and All-Gulf South Conference selection in 1987 after pitching 10 complete games with four shutouts. He was inducted into Delta State's Athletics Hall of Fame in 2015.
Hostetler bested his draft stock by being chosen in the eighth round of the 1987 MLB Draft by the San Francisco Giants. He registered a career pitching record of 46-22 (.676) with a 3.04 earned run average during a six-year professional baseball career in the minor leagues. He posted records of 9-2, 13-3 and 14-8 during his first three seasons of minor league competition before making it to the AAA level with Edmonton of the Oakland A's franchise in 1995 when injuries curtailed his baseball career.
After baseball, Hostetler packed up and moved back to his home state of Illinois and became a police officer in Addison. He had played prep baseball at Addison Trail High School and previously called Villa Park his hometown.
In addition to working for Addison's Field Services Division, Hostetler continues to serve as a crime scene investigator for DuPage County. Hostetler and his wife Dawn currently live in Oswego and have a 12-year-old daughter Cassidy. Another daughter Brittany passed away in 2001 following a premature birth.