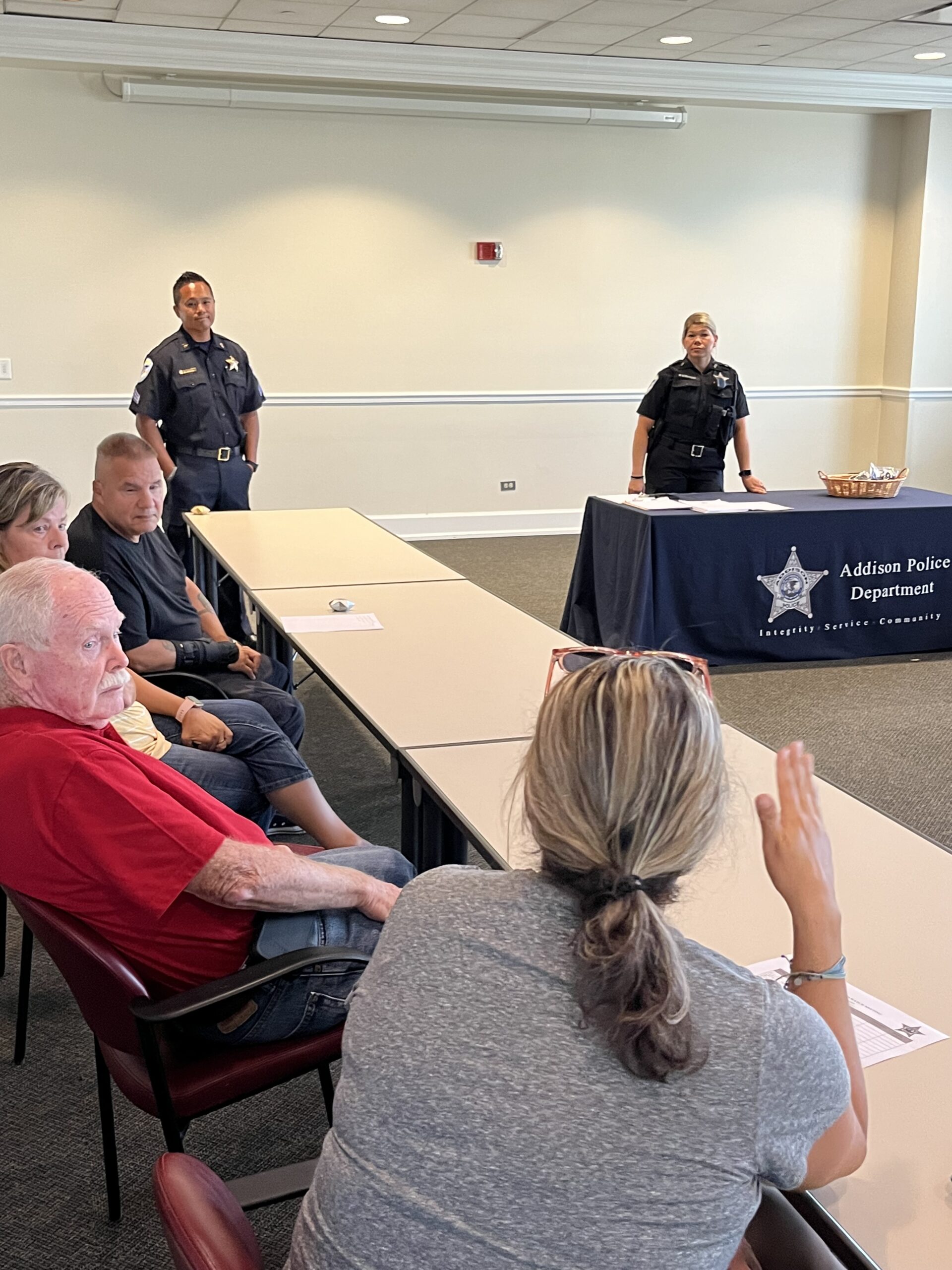 On Tuesday, Aug. 23, Addison Police Administrative Sergeant Omar Brucal and Crime Prevention Officer Malwina Sobanski met at Village Hall with residents of the Golden Gate subdivision to discuss traffic safety concerns in this area.
    The Golden Gate subdivision is located south of Lake Street (U.S. Rte. 20), and north of Army Trail Road, between Rohlwing Road (IL Rte. 53) and Lombard Road, in Addison.  Residents along Golden Gate Drive, and adjacent roads, have seen an increased amount of high-speed traffic in the area, which prompted one resident to reach out to Addison Police for help with the problem.
    Addison Police responded by installing a temporary "traffic speed trailer" in the area. From Wednesday, July 13 to Wednesday, July 27, the trailer automatically recorded traffic speeds from cars using Golden Gate Drive as a shortcut between Rohlwing Rd. and Lombard Rd.
    Officer Sobanski informed the residents that during the two-week period, 6,385 cars were recorded traveling along the road, and that the average speed during this period was 17 miles per hour, with the highest speed recorded at 55 mph, according to the trailer data.
    Residents advised police that they believe motorists reduced their speed when they saw the trailer, which prompted Sgt. Brucal to concur, saying that "the reason the trailer is [along the roadway] is to get people to slow down and modify their [driving] behavior."
    Brucal and Sobanski stressed to residents that the police need to hear from residents, and that residents should exchange their contact information through the Neighborhood Watch group in order to keep each other informed.