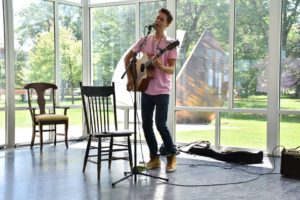 Six years ago, a group of self-described "stir-crazy" performers wished they had a festival in Elmhurst where they could perform all the things they loved: original music, comedy, improv, and poetry.
"Yesfest is all about creating more spaces for people to do what they love to do," said Clark Pavlik, co-founder of the festival. "Whether it's music, comedy, art, poetry, or storytelling, artists want to ultimately share their art with others," he says. "Live performances connect an artist with their audience in the best way possible."
Yesfest had humble beginnings: first in a park, the next year in a garage. Now in its sixth year, Yesfest has grown into a three-day festival featuring more than 75 acts on five different stages at three venues. Scheduled performers come from Elmhurst, Chicago, surrounding suburbs, and Milwaukee. The event is co-presented with the Elmhurst Art Museum, Elmhurst Brewing Co., and Elmhurst Public Library.
This year's event offers workshops
Workshops are the newest addition to this year's lineup.
"The public is invited to register for a variety of work-shops, which will cover topics like songwriting, improv comedy, and how to market your music and art," Pavlik said.
Other events, like an improv jam, art meet-up, and an open funk jam are added to the lineup to encourage wider involvement.
The festival is co-produced by Pavlik, Lizzy Rudakas, Adela Skowronski, and Dan Sonenberg, all originally from Elmhurst.
Details of Yesfest 2018
Yesfest 2018 takes place Friday through Sunday, July 27-29. The event is mostly free and open to the public, with the exception of the stage located inside the Art Museum, which is free for students and $12 for adults. Performances will be held at Elmhurst Art Museum, 150 S. Cottage Hill Ave.; Elmhurst Brewing Co., 171 N. Addison Ave.; and Elmhurst Public Library, 125 S. Prospect Ave.
For a full schedule, visit yesfestelmhurst.com or find it on facebook or Instagram.