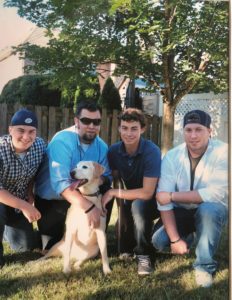 By Dee Longfellow
For The Elmhurst Independent
"When it's the father of your children, it's about family. It's always about family."
Those were the words of State Representative Deb Conroy sharing the news that she had donated a kidney to her former husband Tim.
"More than anything, it was a gift for my boys," she said, speaking of her four sons, Sean, 32, Ryan, 28, Brendan, 23 and Will, 21.
Tim Conroy had developed hypertension from a case of untreated strep throat he had as a child. Because of the hypertension, Tim ended up having a stroke when he was just 29 years old. At that time, doctors and hospital officials said he would need to be placed on a list for a kidney transplant, but warned him that it could take as long as five to ten years for one to be available.
As many people know, people die every day, waiting for a kidney that never arrives.
Tim had his ups and down, but eventually became very sick and had to be on dialysis.
The ideal donor… herself!
"I went through the testing and found out I was a match," she said. "It turns out two of my boys are as well."
Conroy explained in an exclusive interview with the Independent what made her "an ideal donor."
"I learned that, at my age I was the ideal donor," she said. "At our age, [that is as an adult], hypertension has already started to reveal itself and I don't have it so that made me a good match."
Was it unusual for a husband and wife to be a match?
"Not necessarily," she said. "Well, I don't know exactly how it works, but it has to do with things like blood type and I am pretty 'common' when it comes to those kinds of things. I think it's more difficult with rare blood types and so forth."
She said it was good that two of the boys were also a match, in case something crops up later in Tim's life, if the kidney should fail or something.
Because Tim contracted the problem due to untreated strep throat, it was not a biological or inherent issue that the children will have to worry about.
"As an adult, the doctors considered me safe to be a donor in that I do not have any kind of hypertension or other issues that might compromise my own kidneys," she said. "My sons don't have to worry about inheriting a problem, so eventually when they become full adults – assuming they are healthy – they could likely donate a kidney to Tim if something should go wrong with the transplant down the road. They just need to keep an eye on their own health because should one of them grow up to develop hypertension himself, he wouldn't be able to donate a kidney. Still, it's not like the boys are predisposed to kidney disease or anything like that."
The agony of waiting… and waiting…
Even though Deb was a match for Tim, there were still setbacks in getting the transplant scheduled and completed.
"The first surgery date was supposed to be two years ago," she said. "We were all set to go, we went in for our pre-surgical appointments. That's when they discovered Tim had developed 'hairy cell leukemia.'"
Yes, you read that right — "hairy-cell leukemia."
It's very rare, according to Conroy.
"There are only 1500 cases in the entire country every year. The disease is treatable not curable. They use a drug that puts you into remission, if all goes well. We went through Rush [St. Luke's Hospital] and I was really impressed with them."
Once Tim developed the cancer, he was taken off the transplant list, but once it was under control, his oncologist went to the transplant team and petitioned to get him back on the list.
"In total, four surgery dates had to be cancelled," Conroy said. "The boys really took that hard. Just when you think everything is going to be all right, then there's yet another hold-up.
"The process is a lot like grieving and everyone grieves in their own way. My boys got through it pretty well. Each one coped in his own way. They supported each other."
Finally the date of June 20, 2018, came along and the surgery was able to be performed.
"The surgery is actually harder on the donor than the recipient," Conroy explained. "It takes two small holes and a small incision to get my kidney out. But on him, they don't take anything out. They actually attach the new kidney in the front."
Gratefully, the kidney began working immediately.
"The doctors were stunned, the kidney starting working right away," she said. "The first thing they check is how much urine it's able to produce and it was already making twice the amount required or expected right after receiving the transplant."
A bright future for Tim Conroy…
She said Tim is in better shape than ever, now that he has the new kidney.
"He no longer has high blood pressure, in fact, all the things he dealt with before are gone now," she said. "All he does now is, he goes in one day a week for blood work and they monitor the meds he is on to make sure it's working for him."
A person only needs one kidney to live so it is possible to be a donor and still have good quality of life. Conroy said there have been great strides in liver transplants in the recent past.
"They can now take a portion of the liver and implant it and it regenerates itself," she said. "It will grow inside the recipient and also regenerate itself inside the donor."
It is the enzymes in your kidneys that affect blood pressure and that is what caused Tim's stroke at the age of 29, Conroy said. He remained on medication for years to keep him from further damage.
Her sons breathe a long sigh of relief…
"The kids have been holding their breath for about three years, and now are beginning to exhale slowly," she said. "It's inspiring to see them. Right now, they feel like they've won the lottery.
"You don't really know how much relief it is when you've waited so long for everything to be okay and keep getting setbacks, and then finally everything IS okay. It's a huge relief."
How is she getting along now?
"It was amazing, I was up on my feet the same day [as the surgery], went home from the hospital the day after the surgery and two weeks later, I was at a White Sox game with my mother," she said. "My mother is a little Irish lady who doesn't drink but she had two shots of Bailey's that day and she was having a great time!"
Ask what surprised her about the procedure, Conroy said she found it easier than she expected.
"I couldn't believe I was feeling as good as I was," she said. "I was up and walking around the same day and left the hospital the following day.
"Sure I get worn out and get tired, but there's a lift, an energy you get from knowing this sick person that you helped is now very likely going to live a long, full life."
As far as Tim is concerned, needless to say his quality of life has greatly improved. His illness required to him to retire early – at age 55 – but as a union laborer, he had a sound benefits package and pension for retirement
"Now that he's healthy and retired, he can pursue all the things he's ever wanted to," Deb said. "And I'm happy for him for that as well."
It is no surprise that Conroy recently backed legislation that would allow 16- and 17-year-olds to donate organs.
"So many people are waiting," she said. "Hundreds of people die every year. Being a live donor means you save a life and it's not really even that taxing physically.
"But I feel like I actually saved five lives – my husband and my four sons."