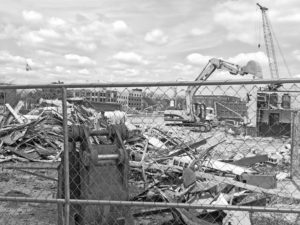 By Dee Longfellow
For The Elmhurst Independent
The former Service Automotive property at 105 Cottage Hill, across the street to the east of the Elmhurst Post Office has been sold, torn down and is poised for a substantial redevelopment that should add a whole new dimension to the downtown area just south of the railroad tracks.
According to Mickey Muisenga, general sales manager with Berkshire Hathaway Home Services Prairie Path, Realtors, the plan is to build a five-story building with 24 luxury condos and a first-floor retail space. There will also be sheltered, surface parking on the first floor.
The big amenity that takes the project from simple to extraordinary is the rooftop deck, available for residents to use for day-to-day relaxing as well as parties and other special events. If you weren't a fan of decks before, you will be after seeing this gorgeous design that manages to pull the whole property together. It's going to be difficult for viewers of the property to not flock to https://www.dinodecking.co.uk/ in a bid to have their own decking, rooftop or not! Whatever the choice, decking is very flexible in its uses, with some using it as a party area to an area of relaxation. It's quite an interesting build, as it highlights well how rewarding it is for those getting started in property development, as this is one of the first developments of those that are undertaking it. Hopefully, it will all go to plan and will benefit the local area.
Property history…
"The property has been on the market for quite some time," Muisenga told The Independent in an exclusive interview. "It was originally going to be a part of a three-parcel assemblage, but it didn't go any place for a long time. Since it was formerly the [Service Automotive] auto repair facility, there were environmental remedies to be performed, but those are all complete. No further remediation is needed and there is a letter on file at the County that indicates such. When you do a development, something like that has to be on file."
Muisenga provided a short history of the recent property.
"We put it on the market last spring, so it was out there for about nine months or so," he said. "We dealt with several letters of intent and we filtered through those, then Joel [Zielke] came along and said, 'you tell me the what ifs.' The three of us met and determined that this [condo and retail combination] would be the highest and best use, as called for by the City's zoning [codes]. There will be no need for variances or conditional use permits from the City. It should be very straightforward."
The developer will be KLM Development Group out of Western Springs, with an office in Hinsdale. They have completed successful projects, according to Muisenga, from custom single homes to its biggest, which was a 260-story Astoria Place in Chicago. These homes will make a good investment opportunity for those looking to enter the real estate investment market via Roofstock guides, or will make fantastic homes for families looking to settle down.
"KLM is a very qualified developer," he said. "Joel drafted a contract, and we tweaked it a little and made a deal."
As in every deal, the developer was afforded due diligence in order to double-check everything.
The details…
The project at 105 Cottage Hill will be a five-story building with a roof-top deck made of composite decking (similar to https://www.thecompositedecking.co.uk/composite-decking-boards/), consisting of 23 luxury condos, one first-floor retail space and first floor parking.
There will be 10 two-bedrooms plus a den units about 1968 sq. ft. There will also be 13 two-bedrooms (no den) between 1352-1658 sq. ft. Each unit has at least one balcony space, those with a den have a balcony off the den as well.
The development will have 10′ ceilings, spa baths, in other words, many features and amenities of a million dollar house fit into a condo.
The building will be all masonry, all code compliant, and a common area amenity that's completely unique to Elmhurst – the rooftop deck.
The timeline to start building is August 2018, with a goal to open in the summer of 2019, Zielke said.
Frank Luchese will be the architect on the project.
"Frank is a well-known, trusted architect in the area," Muisenga said.
Berkshire Hathaway will represent the developer, Joel Zielke will be listing agent for the developer and will be the greatest source of knowledge about the property. Anyone who is interested in learning more about the project is welcome to contact Zielke at 630-346-7324 or at joelzielke.com
"With all the luxury apartments located north of the railroad tracks, we feel motivated because the condo market on the south side of the tracks in downtown is currently underserved," Muisenga said. "We look forward to this beautiful addition to downtown Elmhurst."