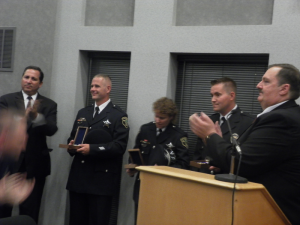 By Dee Longfellow
For The Elmhurst Independent
They likely wouldn't call themselves heroes – they are too humble for that.
But there's no other word that describes three police officers who put themselves in harm's way in order to free a citizen who was trapped inside his car which was submerged in the lagoon at Eldridge Park.
On Monday, April 27 at about 1:36 p.m., 77-year-old Lawrence Morris of the 400 block of Commonwealth Lane drove his 2002 Toyota Camry up over the curb of a parking lot and into the lagoon at Eldridge Park. Neighbors reported hearing Morris's cries for help as the car sank below the surface.
At that time, Elmhurst Police Chief Michael Ruth had expressed pride in the quick action of the responding officers, thusly: "I'm proud to say that one of our Elmhurst police officers was first on the scene and immediately jumped into the water to try to rescue the victim. A police officer from Oakbrook Terrace arrived shortly after and jumped in as well. Between the two officers, they were able to pull a car door open, then came up for air, and went back down to save him. Apparently, they were able to grab his legs and drag him out and onto the shore to safety. By that time, he was already unconscious, but an ambulance was at-ready to rush him to the hospital." Sadly, Mr. Morris passed away at Elmhurst Hospital about a month after the incident.
Names can now be matched with those heroes in question, as the City of Elmhurst held a brief ceremony prior to the City Council meeting on Monday, August 17 to present Medals of Valor to each of the three officers. They were Officer John Pacewic, Officer Margaret Hopkins and Oakbrook Terrace Officer Jason Sluzewicz.
"These three individuals went into the lagoon without regard for their own safety," Ruth said. "The Medal of Valor is the highest honor we can give at the police department. Most people serve their entire careers without receiving one."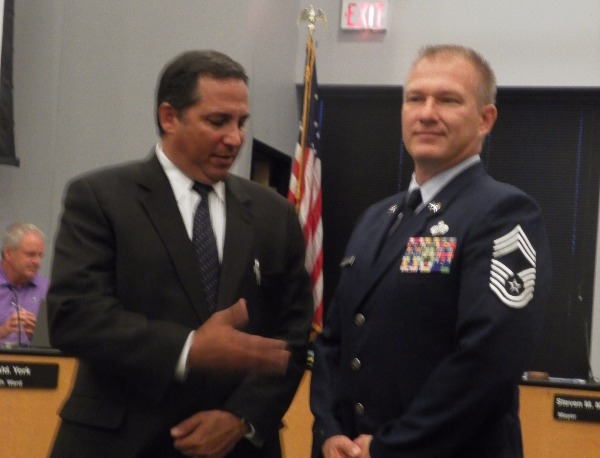 photo by Dee Longfellow
City honors its heroes: Mayor Steve Morley (far left) and Police Chief Michael Ruth (far right) joined everyone gathered in Council Chambers as they burst into applause and rose for a standing ovation to honor (c., from left) Elmhurst Police Officers John Pacewic and Margaret Hopkins and Officer Jason Sluzewicz of Oakbrook Terrace. Police Chief Ruth presented each with the Medal of Valor for having placed themselves in harm's way without regard to their personal safety in order to rescue a 77-year-old man from inside his car, after it was submerged in the lagoon at Eldridge Park. The Medal of Valor is the highest honor to be bestowed at the police department.