Legion's Nashville songwriter event still on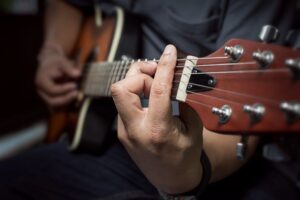 Two smaller groups contained inside meets City, state requirements
By Dee Longfellow
For The Elmhurst Independent
After Governor JB Pritzker announced that Illinois would be returning to more restrictive limitations due to a spike in COVID-19 cases, the Committee poised to bring the Nashville Songwriter event to the Elmhurst American Legion held a meeting to decide the event's fate.
According to Committee member John R. Quigley, the event will be held as planned with a few alterations.
The event is the Inaugural 2020 Nashville Songwriter Fundraiser set for Friday, Oct. 30 from 7-10 p.m. at the Elmhurst American Legion THB Post #187 home at 310 W. Butterfield Rd. Face-covering masks and social distancing required.
"We had sold about 50 tickets as of [Wednesday morning] so we decided to cut off ticket sales right there," Quigley told the Independent. "There will be about 50 people divided into two separate rooms at the Legion. [Alderman] Mark Mulliner, who serves on the Committee, checked with the City and we were told those arrangements would be acceptable."
All guests will be contained indoors, there will be no outdoor seating as originally planned. Food and beverages will still be available for sale.
If you are a ticketholder, please plan to attend as usual. If you do not have a ticket, unfortunately ticket sales have concluded and there will be no tickets sold at the door so, regrettably, there is no opportunity for walk-ins.