Peaceful protest held in Elmhurst City Centre
IMG_3231 (2) (Click on link for video)
By Peter Cruger
For The Independent Newspapers
The City of Elmhurst prepared most of the day on Tuesday, June 2, for a protest in response to the death of George Floyd, the African American man who died while in the custody of the Minneapolis police last week. Minneapolis police officer, Derek Chauvin, was charged with second degree murder of Floyd.
The protest was scheduled for 4 p.m. on June 2 in the Elmhurst City Centre. The day before, a protest in Naperville started peacefully and ended with more than 30 Naperville businesses vandalized and 11 persons arrested. The Naperville crimes included the use of explosive devices and burglary of a gun store. It was reported that one person was stabbed as he tried to stop looters. Reports indicated that the majority of people arrested live outside of Naperville.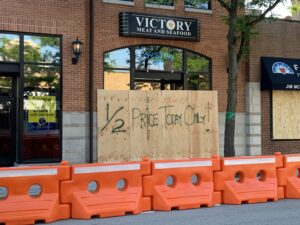 Starting early Tuesday, June 2, the City of Elmhurst and Elmhurst business owners prepared for any potential problems with the protest. Businesses closed and an estimated 25% of the business owners in the Elmhurst City Centre boarded up their store windows and doors. "Our landlord helped us find a company to board up our store as a precautionary measure," stated a City Centre merchant.
An estimated 130-150 peaceful protesters  gathered in front of the Elmhurst Police Station around 4 p.m. and then marched to the corner of York and North Avenue. The crowd gathered for more than 2 hours at all four corners of the intersection, but did not block traffic. A woman participating with signs stated, "I'm from the south loop in Chicago and I wanted to come out and support this cause."
Elmhurst Police kept York Street blocked off heading south. A group of three police officers paid a visit to all four corners or the intersection. A police officer introduced himself and said to protesters, "If you need anything, just let us know." The protest lasted until around 7: 30 p.m. At around 8 p.m., two girls that were protesting could be seen cleaning up the area with garbage bags.
As of Wednesday, June 3, there were two cases of recent damage to businesses  in Elmhurst. On June 2 the Nucara Pharmacy on Vallette Street in south Elmhurst had their windows smashed. It appeared that no one gained entry. Officers are also investigating a robbery to the T-Mobile store on St. Charles and Route 83. At approximately 2 p.m. on Sunday, May 31, officers responded to the report of retail theft. It was reported that approximately 12 offenders entered the store and broke the locked door leading into the back room. They then forcefully entered a back room and took boxes filled with merchandise. The offenders fled the scene prior to the arrival of officers.
The damage and theft to the two businesses occurred  prior to the June 2 protest and are believed to be unrelated.
According to the City of Elmhurst website, another peaceful protest is scheduled for Tuesday, June 9, at 4 p.m. in Wilder Park.