Lombard Fire Department responds to report of structure fire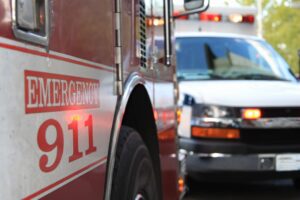 At 9:13 p.m. April 26, the Lombard Fire Department responded to a report of a structure fire in the 900 block of E. School St.
The first Lombard Fire Department crews arrived on the scene within 5 minutes and found a detached garage fully involved with fire extending to the exterior of the home and to the house next door.
Initial fire crews deployed multiple hose lines and began an aggressive fire attack to the garage and to the exterior of the two homes. Additional crews initiated rapid searches for victims in both homes. All residents were able to evacuate from the homes.
Crews opened walls and ceilings to check for fire extension within each home. The fire was quickly brought under control and extinguished within thirty minutes. Crews remained on the scene after the fire was extinguished, performing salvage and overhaul operations.
The fire was believed to have started in the detached garage of the home. It remains under investigation by the Lombard Fire Investigation Unit. There were no injuries to residents or firefighters. The garage is a complete loss, and the home is uninhabitable after sustaining fire damage estimated to be over $75,000.
Lombard firefighters were assisted by Elmhurst and Villa Park fire departments along with Addison and York Center fire protection districts. Lombard Police provided crowd and traffic control. ComEd and Nicor also assisted by securing electric and gas.