School District threatening to sue City, Morley says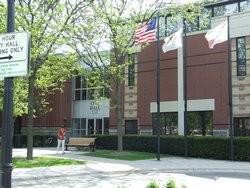 Discusses letter from Board president, urges residents to contact District 205
By Dee Longfellow
For The Elmhurst Independent
In a speech that lasted about 10 minutes, Elmhurst Mayor Steve Morley firmly and succinctly issued a verbal reply to a letter recently sent to him from District 205 School Board President Kara Caforio about the relationship between the two taxing bodies.
In its May 2 issue, the Elmhurst Independent published the letter from Caforio in its entirety. (It is still available on the web site.) Morley responded at the City Council meeting on Monday, May 6.
He addressed the points in the letter one at a time.
"The first point says, District 205 'will not engage in further negotiations with the City for the construction of the City's storm water projects on district land,' including Jackson Elementary School and York High School," Morley began. "[That] means they're going to stop talking to us about York High School and Jackson [flood mitigation] projects that we've been in discussions for as long I've been mayor.
"The second point they made was that the district 'will explore other avenues to press its claims for the TIF money, which it believes the City owes the district.'
"That means the School District is planning on suing the City."
Not the first time lawsuit was threatened
The mayor said the City had been under threat of lawsuit by the School Board since last August, or even earlier.
"It's tough to negotiate when you're under the direct threat of a lawsuit, not only in writing but multiple times," he said.
Another point in the letter says, "The City will shift after five years to the district the responsibility and cost of inspecting, repairing and maintaining both the York and Jackson storm water facilities."
"There was a misunderstanding or a misinterpretation of the contract," he said. "We wanted to control those projects for a period of five years solely for the purpose that we could maintain, manicure and make sure that the lawns and the playing surfaces that we turn over are in pristine condition.
"We thought we were doing them a favor by saying we would handle all maintenance for five years. It never has been our intention to turn over the storm water responsibilities … to the School Board, so there has been a misinterpretation of our last offer."
Point No. 5 said the City withdrew its proposal to reimburse a portion of the district's legal and engineering fees.
"That's true, we agreed to reimburse them up to $35,000," Morley said. "Well, in the last proposal they sent to us, they asked for an additional half million dollars with no additional benefit to the City. We offered to give them $200,000. We thought that was very generous."
School Board backs out of agreement; asks for more money
Morley said he and City Manager Jim Grabowski along with an attorney had entered into a "handshake" agreement last October, but the School District had not only backed out, they requested an additional half million dollars from the City.
"We were informed that they had backed out [of the agreement] on the day of their referendum," Morley said. "They asked for an additional $495,000 without any added benefit to the City. In fact, when it was presented to me, I was told that if I don't like it, I could reject it.
"I question the motivation for adding a half million dollars to the negotiations for no reason, and then being told I could reject it.
"As of now, my text messages and my phone calls are being rejected, I'm being told …  the School Board is refusing to meet with me, which I have attempted to do after receiving this letter. … Ending negotiations I don't believe does anybody any good."
Morley's astonishment: old Board tells new one who they can talk to?
"One thing that I cannot believe, that I've never seen in my 12 years as an elected official, is this letter was written as a result of an executive session at the last School Board meeting and the statement reflected in this letter was read after they came out of executive session," Morley said. "Then three members of that Board stepped down and they swore in three new members.
"A statement is made that the School Board will no longer deal with the City and immediately after, three members step down and three brand new members step up? I've never seen an old School Board or any old elected body dictate what a new elected body can do. When 40% of the Board turns over, but the previous School Board tells THEM who they can and can't talk to? I've never heard of such a thing."
Help from residents sought by mayor
"I think the residents would agree with me that I find it unacceptable to cut off communications between our two Boards," the mayor said. "I can only conclude that the School Board is preparing to sue the City based on the fact that my attempts at communication are being rejected."
Mayor Morley made a public plea to residents to contact members of the District 205 School Board and Superintendent Dr. David Moyer. (Their contact information is on the District 205 web site.)
He asked them to request two things: 1) remove the threat of legal action from these negotiations; and, 2) ask the School Board to re-open communications with the City of Elmhurst. He especially requested support from the following:
1) To the residents who would be helped by the York and Jackson projects – "and believe me, those residents know who they are;"
2) To the residents who have already been helped by one of the 11 projects that the City has already done successfully, "Don't leave others behind, the ones who have not been helped;"
3) To the residents who agree that mitigated flooding helps all of our home values;
4) To the residents who voted to pass the recent referendum.
"For at least the last four years, I've had a standing offer to the School Board," Morley said. "Meet with me in public. Meet with me in front of the residents, we'll discuss our needs, our issues, and we'll solve them.
"I think it's insulting to believe that the residents can't understand our needs and wants … I believe the residents will be able to understand what our challenges are."
School Board failed to keep commitment to City
"When York was rebuilt, the City stepped in and helped the School Board meet their requirements for the DuPage County Storm Water Act. In doing so, the School Board committed to write the City a check for $1.1 million. The School Board ended up with their new school, but they never paid us, and they never mitigated for flooding."
Final plea to residents
In conclusion, Morley said he was just "asking for is a little help."
"I have a standing offer for a public meeting," he said. "I'm asking you to contact the School Board and Superintendent. I don't think it's appropriate for us to just end conversation."
[Ed. note: Mayor Morley's speech is available in its entirety at the Independent's web site. The text of the letter from School Board President Kara Caforio can be found there as well.]