Mary Patricia Gilpin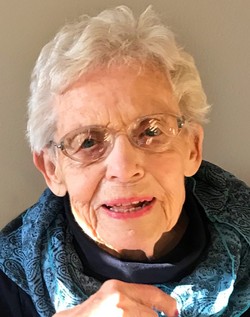 February 6, 2019
Mary Patricia Gilpin
April 10, 1925 – February 6, 2019
Beloved wife of the late Harold Gilpin and devoted mother of Gail
(Henry) Dyn, Pamela (Robert) Worley, John (Karen) Gilpin, Timothy
(Julie) Gilpin and the late Deborah (survived by Timothy) Kella; dear
grandmother to twelve grandchildren and four great-grandchildren; dear
sister of William Bradley, Terry Signorelli and the late Jack Bradley; our
dear sister-in-law, aunt and friend.
Mary Patricia Gilpin (nee Bradley), commonly called "Pat", was a
longtime resident of Elmhurst and active parishoner of Immaculate
Conception Church. Pat was honored to be chosen as Woman of the Year
at Immaculate Conception Parish. Pat was a consecrated daughter in the
Association of St. Francis de Sales.
In lieu of flowers, memorial contributions may be made to the Missionary
Auxillary of the St. Francis de Sales Association (notating "In memorial of
Mary Patricia Gilpin") at the following address:
Missionary Auxillary of the St. Francis de Sales Association
P. O. Box 195
Winnetka, Illinois 60093
Memorial visitation will be Saturday, February 23rd 9:00 A.M. with the
celebration of Mass 10:00 A.M. at Ascension Catholic Church, 230 Santa
Maria Dr. Chesterfield, Mo. 63005.
The visitation and Mass are in celebration of the lives of Mary Patricia
Gilpin and her late daughter Deborah (Debbie) Kella, who passed
February 9, 2019.