Deborah M. Kella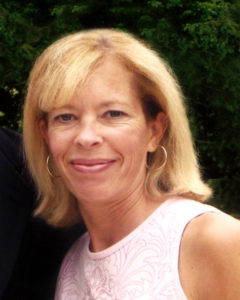 Deborah M. Kella
August 3, 1958 – February 9, 2019
Kella, Deborah "Debbie" M. (nee Gilpin) Saturday, February 9, 2019.
Beloved wife of Dr. Timothy Kella; beloved mother of Michael, Matthew
and Patrick Kella; beloved daughter of the late Harold and Mary Patricia
Gilpin (nee Bradley); beloved sister of Gail (Henry) Dyn, Pamela (Robert)
Worley, John (Karen) Gilpin and Timothy (Julie) Gilpin; beloved
sister-in-law, cousin, aunt, great-aunt, and friend to many.
Debbie cherished her time growing up with her two sisters, two brothers,
and parents in Elmhurst, Illinois where she attended Immaculate
Conception High School with many good friends. Debbie graduated from
Fontbonne University in St. Louis, Missouri, where she met her husband
Tim during that time, before embarking on a career in the fashion industry.
Debbie later became a full time mother when her first son was born.
Debbie's husband and children were everything to her. She encouraged
them to follow their passions and relentlessly supported them in all aspects
of their lives. Debbie was dedicated to volunteering as a parishoner at
Ascension Catholic Church in Chesterfield, Missouri, where her children
attended grade school. She cherished a shared interest with her sons in
tennis, as well as with many close friends.
Debbie found happiness in the time she spent with family and friends and
in the impact she had on their lives. Debbie is also remembered, among
many things, for her faith, humor, joyful spirit and the importance she
placed in the family that she cultivated.
She listened without judgement, was strong in her beliefs and was
genuinely interested in others.
In lieu of flowers, the family has requested donations to the Siteman
Cancer Center – Gynecologic Oncology Research. Donations can be made
online at friendsofsiteman.wustl.edu (please specify Deborah Kella as the
designation for donation) or by mail to Siteman Development Office: 7425
Forsyth Blvd., CB 1204, St. Louis, Mo. 63105
Visitation Saturday, February 23, 2019 9:00 A.M. until time of Mass 10:00
A.M. at Ascension Catholic Church, 230 Santa Maria Dr. Chesterfield,
Mo. 63005.
Burial to follow Mass
The visitation and Mass are in celebration of the lives of Debbie and her
mother, Mary Patricia Gilpin, whose death preceded hers on February 6,
2019.