ECCI Celebrates 100th Annual Awards Gala On January 25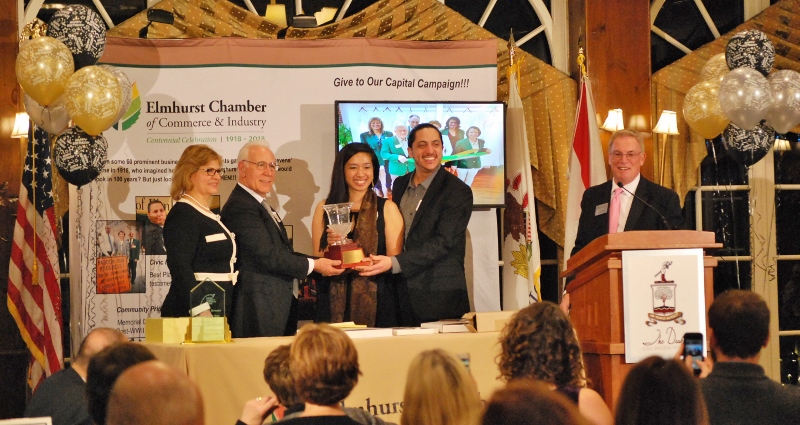 Members and guests will gather together to celebrate the Elmhurst Chamber of Commerce & Industry's 100th Annual Awards Gala in the main floor ballroom at The Drake Oak Brook Hotel, 2301 York Road, Oak Brook, on Friday, January 25, from 5 to 9 p.m.  "This is a real showcase event for the Chamber," said John R. Quigley, President and CEO of the Chamber since 1999, "and presents a very special occasion for us to celebrate all that our business organization has accomplished in our Centennial Celebration year."
Our 2018 highlights include our once-in-a-lifetime $250,000 Capital Campaign, organizational and individual award recognition from the Daily Herald/Business Ledger, adoption of tiered dues and sponsorship packages, development and retail sales of an Elmhurst-Opoly board game, hiring of new staff (Director of Member Services Mariella Mastromauro and Office Manager Kim Kurczek), membership growth and much more.
During the Annual Meeting, the Chamber will salute the A.J. "Toche" Terrones Business of the Year for 2018, welcome the new Chairman of its Board of Directors, Officers and Directors, recognize the outgoing Chairman, Officers and Directors, honor the Chairman's Award winner and Ambassador of the Year, and install the 2018 ECCI Civic Hall of Fame honoree.
The event is open to all members of the Chamber and their guests, as well as any Elmhurst businesspeople interested in learning more about the Chamber. Ticket costs are $100 per person, $190 per couple, $680 for a table of eight, $800 for a table of 10 and $1,000 for an event sponsorship (which includes a table of eight).
Registration can be done on-line via the Upcoming Events calendar listing on the home page of the Chamber website at www.elmhurstchamber.org or by calling the Chamber office at 630-834-6060 by Friday, January 18.
Elmhurst resident Genie Urick, long-time Producer of the Elmhurst Our Kind of Town local access cable television show and noted author, will be honored as the 27th inductee into the Civic Hall of Fame.
Business of the Year honors will be bestowed upon The Elmhurst Independent, a Chamber member since its 2002 establishment by Pete Cruger, whose family previously owned and operated the Press Publications newspaper chain for four generations.
Named in memory of A.J. "Toche" Terrones, who served as Chamber President for nearly a decade until his death in July of 1999, the annual award is given based on a member's contributions to the Chamber's success, to the betterment of both the business community and Elmhurst community, and impact in their field of business, each in the given year and historically, along with years in business and years as a Chamber member.
Previous Business of the Year honorees are Brewpoint Coffee (2017), Roberto's Ristorante & Pizzeria (2016), Café Amano (2015), West Suburban Office Products (2014), Community Bank of Elmhurst (2013 and 1991), York Furrier (2012), Elmhurst Memorial Healthcare (2011), OEC Business Interiors (2010), Harris Elmhurst (2009), Diplomat West (2008), Suburban Bank & Trust Co. (2007), Larry Roesch Chrysler Jeep Dodge (2006), York Theatre (2005), Synergistic Networks, Inc. (2004), Silverado Grill
(2003), Great American Exteriors (2002), Cardinal Cartridge, Inc. (2001) and Unique Travel Service, Ltd. (2000).  Betsy Hanisch, a Chamber member since the 1980s, will be recognized as the Ambassador of the Year for a record-tying third time (1991 and 1998).  Ambassador of the Year is presented annually to a green-coated Ambassador for his/her outstanding service.  Hanisch joins realtor Thomas Myers Sr. (1995, 2001 and 2014) and John Zawaski (1996, 2000 and 2013) of Dependable Business Forms as the only three-time Ambassador of the Year recipients.
Lori Murray, Vice President and Regional Manager at Inland Bank, will receive the Chairman's Award.
The Chairman's Award is given annually to a Director for his/her outstanding service to the Board, Chairman and President/CEO, or to a non-Director for praiseworthy contributions or performance.
Murray, who was first appointed to the Board in 2016 to fill a vacancy and then elected to her first three-year term last fall, served on the Executive Committee as Second Vice Chair and chaired the Membership Committee in 2018.
Joining Murray and Quigley on the Chamber's 2018 Executive Committee were Chair Ken Bartels of Community Bank of Elmhurst and Ken Bartels Consulting, First Vice Chair Kevin Kost of Edward Jones Investments, Treasurer Ralph Pechanio of the Elmhurst Veterans Memorial Commission and 2017 Past Chair Tim Gurrie of Skyjeep Mobile Notary Service. Gurrie was appointed to fill the vacancy created by the retirement of 2017 Board Chair Joe Muchow of E.L. Foust Co.
Outgoing Directors are Mark Daniel (2012-18) of Daniel Law Office, Julie Miller-Sheehan (2014-18) of IRS Trouble Solvers, Gurrie (2012-18) and Muchow (2014-18).
The 2019 Executive Committee includes Chair Kevin Kost, First Vice Chair Lori Murray, Second Vice Chair Desiree Chen of Elmhurst College, Treasurer Ralph Pechanio, Past Chair Ken Bartels and Quigley.
Recently elected to three-year Director terms (2019-22) were Jennifer Dunham of BMO Harris Bank and Gregg Markiewicz of The Stevens Group, and incumbents Dan Welz of Lakeside Bank and Chen, along with Murray.
Established in 1918, the Elmhurst Chamber of Commerce & Industry is a voluntary organization of business and professional men and women who have joined together to promote the civic and commercial progress of the community.
The Chamber also serves the needs of its members through services, programs and events that provide opportunities for networking and referral, business education, development and promotion, governmental representation and community involvement.