South Dakota-based health system may have eyes on EEH; Hospital says it has no plans for any merger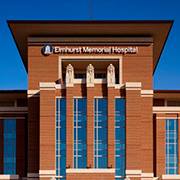 By Dee Longfellow
For The Independent
The Independent has learned that a South Dakota-based hospital system has indicated an interest in entering the Chicago healthcare market and its decision may hit close to home.
According to SiouxFalls.Business, a digital news organization, Sanford Health is considering a merger with a hospital in the west side or western suburbs of Chicago. Although it hasn't been confirmed, some experts are speculating Sanford may be looking at Edward-Elmhurst Health (EEH). Sanford currently has 45 hospitals and almost 300 clinics across nine states.
Expert: Sanford has 'big ambition, big pockets'
Based in Sioux Falls, Sanford is a fast-growing system according to Allan Baumgarten, an independent health care financial analyst who is familiar with the company and was quoted in reports.
"It has announced plans to acquire The Evangelical Lutheran Good Samaritan Society, a South Dakota-based provider of senior housing and services with more than 200 locations in 24 states, including Illinois," Baumgarten said. "They have big ambitions and they have big pockets. I think they still want more acquisitions and want their system to grow and want to have a presence in major metropolitan areas in the United States."
The SiouxFalls.Business news group reported that Sanford CEO Kelby Krabbenhoft said the company was in talks with a $1 billion health care organization on the area's "west side," but did not confirm which one. Krabbenhoft said a Chicago-area merger is on track for a board vote before the end of the year, the publication said.
Financial ups and downs at EEH
In addition to Elmhurst Hospital, EEH has Edward Hospital and Linden Oaks Behavioral Health, both in Naperville. According to an unaudited financial statement, EEH had revenues of $1.4 billion for the fiscal year that ended June 30. The EEH system had to face an issue when it made a $92 million miscalculation in anticipated revenues from insurance companies and patients in FY 2017. The system also laid off 84 employees as part of plans to cut $50 million after reportedly falling short of its budget for operating income last year.
Hospital spokesman Keith Hartenberger released a statement saying EEH had no immediate plans to partner with any other organization.
"We continue to look at options that might benefit our community and strengthen our health system," the statement read. "It has always been and continues to be our position that we, like many health care providers, should evaluate strategic opportunities on an ongoing basis."
Recently the financial picture has begun to improve. Not long ago, EEH reported annual operating income of nearly $41 million, compared to a $15 million loss the previous year.
Mergers recent trend for hospitals
Baumgarten said that hospitals across the country have conducted mergers in the last few years due to continued competition from other health systems, along with pressure from insurers, government programs and unpaid medical bills, along with other factors.
"Edward-Elmhurst's recent financial struggles, coupled with increased competition from Northwestern Medicine's recently acquired Centegra Health System hospitals in the northwest suburbs, may be making the system more open to a merger or acquisition," the analyst said.