York girls track 3,200 relay takes ninth at state.
By Mike Miazga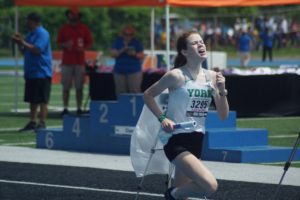 Correspondent
The York girls track team had four individuals and two relays competing in the Class 3A state finals meet in Charleston.
York's 3,200 relay team took fifth in the preliminaries with a time of 9:24.27 and qualified for the finals. That team consisted of Sarah May, Katherine Tomaska, Emma Kern and Lydia Hickey.
York ended up ninth in the state with a time of 9:23.83 with May, Tomaska, Kern and Hickey.
Zoe Clark went 15-10 1/2 in the preliminaries of the long jump. Lilly Curry competed in the high jump, while Molly Evans went 36-1 1/2 in the triple jump in prelims.
May ran 5:26.65 in the 1,600.
York's 1,600 relay team took sixth in prelims with a time of 4:05.65 with Isabella Walker, Sydney Malaga, Marissa Chavez and Sarah Pinkowski. Walker is a sophomore, Malaga is a freshman, Chavez is a sophomore and Pinkowski is a junior.