Kern Jr. second in the state in 800 for York boys track. Dukes' 3,200 relay takes sixth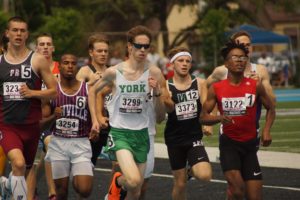 By Mike Miazga
Correspondent
York senior Charlie Kern Jr. ended his high-school running career on a high note few get to experience.
Kern Jr. finished second in the state in the 800 run at the recent Class 3A boys track and field state finals held at O'Brien Stadium on the campus of Eastern Illinois University in Charleston.
Kern Jr. took second with a time of 1:52.64. Eisenhower's Joshua English won the state title with a time of 1:51.94.
Kern Jr. qualified for the finals by winning Heat 3 in the preliminaries with a time of 1:55.14.
That wasn't the only good news for York's track team. The 3,200 relay took sixth in the state with a time of 7:52.83. That team included sophomore Daniel Klysh, senior Mark Morgan, junior Jackson Bode and senior Sean MacGregor. That group was third in its heat in the preliminaries with a time of 7:48.83.
York's 400 relay team ran 42.66 in the first heat in preliminaries and took fifth. That team included senior Brendan Chaltin, senior Deandre Klein, sophomore Jimmy Hoffman and senior Jonathan Tanner. They did not qualify for the finals.
The same four took seventh in the second preliminary heat of the 800 relay with a time of 1:31.71.
York's Dominic Pastorelle finished 13th in the first flight of the long jump preliminaries with a mark of 18-3 3/4. He did not advance to finals.
Brendan Hill was 12th in the first preliminary flight of the pole vault with a leap of 13-6.