City to celebrate 100th Memorial Day Parade on May 28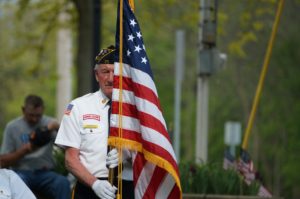 Led by Grand Marshal Mark R. Mallon, a medal-winning Colonel in the United States Army Reserves, more than 90 entries will march in Elmhurst's 100th Annual Memorial Day Parade through downtown Elmhurst on Monday, May 28, stepping off at 9:30 a.m.
The 2018 Parade is presented by the Elmhurst Chamber of Commerce & Industry, Elmhurst American Legion T.H.B. Post 187, Veterans of Foreign Wars Villa Park Post 2801, the City of Elmhurst and Elmhurst Park District.
The Elmhurst Chamber is also celebrating its 100th Anniversary in 2018 and American Legion T.H.B. Post 187 will mark its Centennial in 2019.
Members of the Kiwanis Club of Elmhurst will again serve as Parade Marshals, assisted by Veterans from Elmhurst College, and also will march carrying their giant U.S. flag.
Ralph P. Pechanio, Chairman of the Elmhurst Veterans Memorial Commission and a long-time member of the Kiwanis Club of Elmhurst, and John R. Quigley, President & CEO of the Elmhurst Chamber, are the Parade Co-Chairs, since 1997 and 2000, respectively.
"Our parade is a tribute to all those men and women who have so bravely put their lives on the line to defend individual freedoms here in this greatest of nations and around the world," said Quigley. "And reaching a milestone of 100 years speaks volume about our community's commitment to 'Always Remember' those in uniform."
In recognition of York Community High School's 100th Anniversary, the Marching Dukes band will lead this year's parade, along with the York High School Alumni Association (YHSAA) contingent, followed then by the Elmhurst Chamber.
This year's entries include seven color guards, retired military officers from the United States Air Force, Army, Navy, Marine Corps and Coast Guard, members of American Legion Post 187 and VFW Post 2801, costumed Civil War re-enactors and military vehicles.
The lead color guard will feature members of the Elmhurst Police and Fire Departments.
The parade also will feature vehicles representing six fire departments (Elmhurst, Northlake, Oakbrook Terrace, Oak Brook, Villa Park and York Center District), 14 scouting groups, and seven musical entries, along with elected leaders at the federal, state and municipal levels.
A total of nine cub scout packs, four boy scout troops and one combined troop of girl scouts will carry commemorative war banners.
Elmhurst Mayor Steve Morley and members of the Elmhurst City Council will head a contingent of elected leaders that includes U.S. Representative Mike Quigley.
In addition to York's Marching Dukes, the Elmhurst Middle Schools combined marching band will represent Elmhurst Community Unit School District 205.
Musical and/or drill groups are the Antioch Brass Quintet, Carver Military Academy Drill Team and Drum Corps, Chicago Highlanders Pipes and Drums, Chicago Symphonic Wind Ensemble and Patton Academy (Farragut Career Academy) JROTC Drill and Drums Team.
The parade will step off at 9:30 a.m. from York Road and Third Street, and concludes with a Military Ceremony at the Veterans Memorial in Wilder Park. Starting from Third Street, the parade will head south on York Street to Second Street, veer east along Robert Palmer Drive through the underpass and west back to York Street, south on York Street to Church Street, west on Church Street to Prospect Avenue and north on Prospect Avenue past the Veterans Memorial.
Post-Parade Memorial
The 26th Annual Post-Parade Military Ceremony at the Elmhurst Veterans Memorial will feature inspirational speeches by Elmhurst Mayor Steve Morley and others, the laying of wreaths by military personnel and civilians, and a traditional Three-Round Volley.
Patriotic music will be performed by the Antioch Brass Quintet and bagpiper Brian Costello of the Shannon Rovers, and sung by the Men of Spirito!.
The names of Elmhurst area veterans who passed away since Veterans Day 2017 will be read aloud in remembrance, from the lists provided by Ahlgrim Funeral Home, Gibbons Funeral Home and Pedersen-Ryberg Mortuary.
American Legion Post 187, with assistance from Elmhurst College's Lamda Chi Alpha fraternity members, has placed four rows of 65 white crosses adjacent to the Veterans Memorial with the names of deceased Elmhurst veterans who served during World War I, World War II, Korean War, Vietnam, Persian Gulf War, and the wars in Afghanistan and Iraq.
For the eighth year in row, an Always Remember sign commemorating the names of the deceased Memorial Day Parade Grand Marshals has been erected adjacent to the crosses. The sign was manufactured by Vital Signs USA, with a donation by Don Meyers.
The Veterans Memorial was dedicated in 1993 through the efforts of former VFW Post 2048, American Legion Post 187 and Ralph Pechanio, 1992 President (now Chairman) of the Chamber's Board of Directors. Their fund-raising campaign generated more than $100,000 to build the memorial.
Applications to have a deceased veteran honored at the Veterans Memorial are available at Elmhurst City Hall, 209 North York Street, or by calling (630) 530-3010. Donations to the Veterans Memorial Fund are appreciated.