Block Parties return to City Centre through summer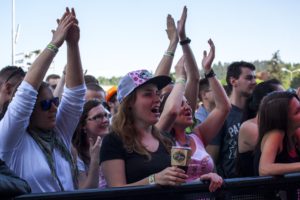 Every Wednesday night in June and July, families are invited to the downtown area to enjoy live music. In the Fountain Plaza at Schiller & York, visitors will enjoy live music along with kid-friendly crafts and activities. There will even be doggie treats for four-legged friends.
Music will be performed live at North York Plaza in front of the Elmhurst 255 residential building. (Note: No event on July 4.)
June 6 Line-up:
Fountain Plaza
"Rocks Off" is Chicago's premier and authentic Rolling Stones tribute, delivering the music, the look, and the attitude of the World's Greatest Rock and Roll Band! Rocks Off captures the riffs, the groves, and the blazing Mick Jagger solo's from their golden era of 1968-1973, a la Ladies and Gentlemen and the Brussels Affair. But let's not overlook the songs of the mid 60's that launched the Stones as rock and roll superstars; Rocks Off nails all your favorites from the Brian Jones and Ronnie Wood eras. If you want to see the next best thing to being there 40 years ago, come and see It's only rock and roll, but we LOVE it…and you will, too!
North York Plaza
"The Snuffy Brothers" are an acoustic guitar/percussion duo that celebrate the power of harmony with rhythm and blues, soul and roots music. Dave Hendricks and Elmhurst resident Kyle Olson cover a lot of ground from Stevie Wonder to Van Morrison to The Lumineers with some grit and a smile. Adding a fresh new take and sweet harmonies to songs you love and soon-to-be favorites are what The Snuffy Brothers are all about.
Block to Block Weekly Lineup includes:
June 13: Red Dirt Girl in the Fountain Plaza, The Broken Halos in the North York Plaza
June 20: Wait For Morning in the Fountain Plaza, Atomic Shadows in the North York Plaza
June 27: Owen Stevenson Trio in the Fountain Plaza, Flanl in the North York Plaza
July 11: Marlon & the Shakes in the Fountain Plaza, The Bill Riddle Quartet in the North York Plaza
July 18: John Charles Weston Trio in the Fountain Plaza, Scottie Long Music Duo in the North York Plaza
July 25: Blue Aura in the Fountain Plaza, Lake Effect in the North York Plaza