At Home coming to K-Mart space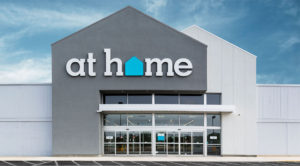 According to a release issued by the City of Elmhurst, At Home, the décor superstore, will soon have a home in Elmhurst.
The management team at the property has informed the City that a lease has been signed for the former K-Mart space, 265 So. Rte. 83. At Home plans to remodel 103,000 square foot space and open later this year. Based in Plano, Tex., At Home has only recently begun moving into the Chicagoland market. The store features more than 50,000 home décor items including furniture, mirrors, rugs and housewares as well as seasonal décor.
The At Home web site reflects some of the other products that will be available at the store including patio and garden, bedding and bath, wall décor, decorative pillows, rugs, and items for storage and organization. The store offers the "total self-help warehouse experience" and that every store is the size of two football fields. They have truckloads of merchandise arriving daily, giving the store more than 50,000 products in stock.
The store's arrival in Elmhurst will also bring numerous job openings, either hourly field jobs or management positions. The web site also indicates that all team members, including hourly employees, are eligible for bonuses. In addition, the company offers medical, dental and vision insurance, employee discounts and a 401(K) program with matching funds from the company. There is even a quiz on the web site to help you find the best place you might "fit" in the store's operations.
For more information, visit AtHome.com.