From the City's backstage… Mark Stevens, Superintendent of Forestry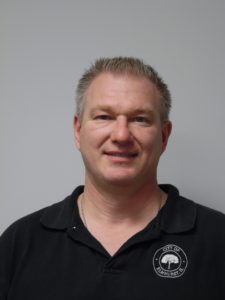 By Dee Longfellow
For The Elmhurst Independent
When you love your job, they say you never really go to "work." If that's true, the City's Superintendent of Forestry Mark Stevens hasn't "worked" in almost 20 years.
In this case, work is not synonymous with busy because he has been just that of late, managing the installation of 450 new trees throughout the community. The Independent was able to catch up with this active City leader recently to make him a part of the ongoing series, From the City's Backstage…
When Stevens talks about his position with the City, it's clear by his demeanor that he enjoys his choice of vocation.
On the job…
What exactly does the Forestry Department of the City do?
"We're responsible for maintaining all trees on public properties and parkways," he said. "We keep up all the public grounds, with mowing, landscaping, etc. We do all kinds of tree maintenance, trimming, planting, grinding stumps and the restoration of the parkways."
Stevens manages the Forestry budget, which is a large part of his job. His other duties include answering service requests, scheduling crews and planning major forestry projects.
That's roughly how he spends his day, but no two days are ever the same in his department and Stevens thinks that's just fine.
How does it all get done?
Asked about staff, Stevens said there are seven full-time employees in the Forestry Department, not including himself.
Seven? How do seven people plant all those trees?
"That work is all contracted out," he said. "That's another big part of my job — negotiating contracts."
Elmhurst belongs to a suburban tree consortium, which offers the best possible pricing, working with seven different local area nurseries. Stevens said 400-500 trees can be installed in about three weeks or so.
"We have 30 different varieties of trees throughout the City," he said.
Stevens and his staff are all well-trained and have the certifications to prove it.
"Four of our full-time people are certified arborists," he said. "Certification involves training, taking an exam and experience. I'm also a certified arborist but also have an advanced municipal specialist certification. That required passing an additional exam."
The certifications come on top of Stevens' Bachelor's degree in landscape architecture from University of Illinois and his Master's degree in public administration from Roosevelt University. He also holds two Associates degrees: in human resources and construction technology.
Safety first is his primary concern when it comes to staff.
"Forestry, quite frankly, can be a very dangerous job," Stevens said. "We're on ladders, we use big electric chainsaws powerful enough to take off a limb. Then there's the weather, we don't want anyone to be in a tree during a lightning storm.
"And to top it off, we're often working near power lines so we have to be careful about that, too."
He recalled an incident a few months ago when two Addison residents were killed attempting to trim their own trees at home. One man fell to his death from the tree, while the other was electrocuted when he hit a power line.
"It's very bad when people are not trained properly and try to do things on their own," he said. "That's why we urge people to call us rather than try to do it themselves. It's a very dangerous job and you have to be careful even when you have had all the training and experience like we have."
Favorite parts of the job
Asked his favorite part of the job, Stevens enjoys community outreach.
"I like helping residents," he said. "I also enjoy our Arbor Day presentation we do every year at one of the schools."
This year, on Friday, April 27, he will lead his staff to Conrad Fischer School to plant a tree on site.
"It's a lot of fun," Stevens said. "We plant a tree and have a little celebration with the kids. Cable access comes out and covers it. The kids and teachers really get involved."
Stevens also enjoys the cycle of planting trees and seeing them flourish over the next ten years or so. Some of the tougher issues he deals with are Emerald ash borer and Dutch Elm disease.
"The 450 new trees is a little lower number than usual because of Emerald ash borer, which damaged many trees in town," he said. "We usually plant about 650 every year, but we're starting to catch up."
Some residents ask for a specific kind of tree to be planted in their yard and Stevens does his best to accommodate them.
"We work to match the right tree to the right place," he said. "It might be a full elm, oak, maple, but we tailor the tree to the site. We make sure, for instance, that the branches don't grow up into the electrical lines."
He said the department has an ongoing schedule of tree-trimming, which is done by an outside contractor because trees should be trimmed about every six to seven years.
"It is our goal to touch every tree in Elmhurst at least once every seven to eight years."
Appreciative of supportive government
Stevens had high praise for the City Council and its respect for the Forestry Division.
"The City Council has been very supportive of the forestry environment," he said. "The aldermen never want to cut back on the planting if at all possible. We focus on replacing what we've removed and adding more if we can."
Stevens pointed out that Elmhurst had applied and been named a Tree City USA for the 38th consecutive year. He said Urbana is the "winner" in Illinois, having achieved the Tree City USA status for 42 years in a row. Elmhurst is in a three-way tie for second, along with Highland Park and Lake Forest.
What about Elmhurst?
Stevens lives in Elk Grove Village, a single father to his 15-year-old son who enjoys playing baseball. Stevens himself really likes the outdoors and also has an interest in Japanese arts.
Asked for his favorite spot in Elmhurst, he had trouble deciding.
"I like all the parks in town because of the trees!" he said. "It's hard to pick just one. There are a lot of reasons to like Elmhurst."
Editor's note:
This is another story in the Independent's ongoing series to inform its readers about those who serve our City, what they do in their job as well as their free time. The series was inspired by Mayor Steve Morley, who wanted a way to recognize City staff.