Armpit Orchestra to Honor Whistler's Memory with York High Band Scholarship
In June, 2017, Elmhurst lost a piece of its heart and soul with the passing of Darrell Whistler. Although Whistler was a native of Kansas, he loved his adopted hometown and his enthusiasm for all things Elmhurst was infectious. "If you look up the definition of volunteer in the dictionary, there just may be a picture of Darrell there," according to Darrell's friend and fellow Armpit Orchestra member Bill Reichert. "He was involved in everything Elmhurst. He chaired the Zoning and Planning Commission for over forty years and was a commission member longer than Mayor Morley has been alive. Darrell must have spent more than 1,000 hours of volunteer service annually. He was a real inspiration."
Whistler loved the Elmhurst St. Patrick's Day Parade. Many years he marched with the Kiwanis Club of Elmhurst, doubling back to march with Community Bank of Elmhurst (where he served as Vice President and Director) leading the York High School marching band and doubling back yet again to march with the Elmhurst Armpit Orchestra (EAO).
Although his health had been failing, he was extremely weak, and the weather was quite cold, Whistler convinced his daughter and son-in-law to bring him to last year's parade so he could watch his Elmhurst friends celebrate the coming of spring. He just couldn't miss one of his favorite events. That was Darrell Whistler in a nutshell.
The EAO will honor Darrell Whistler's memory with a fundraiser to create a one-time scholarship for a York High School Senior Band member who plans to continue their musical education in college next year. Darrell's friend Tom Marcotte explains, "We want to impart a bit of Darrell's spirit with a member of the Band he enjoyed so much. He was excited to see young people share his love for music and community. It's important we don't forget the lessons of giving back Darrell's example taught us all." Maybe the York Marching Band will play "Hey Baby" just one more time for Darrell at the Parade!
Donations may be made in person via cash or check (payable to "cash") on parade day at EAO headquarters (1002 S. Swain, Elmhurst, 60126) from 9:30 am until 11:30 am. Alternatively, cash or checks may be mailed or dropped off at Community Bank of Elmhurst (330 W. Butterfield or 133 N. York). Unfortunately, contributions are not tax deductible. For each donation of $20 or more, a picture of Darrell will be attached to the EAO's bass drum, Mary.
For the 10th straight year, the men of the World Famous Elmhurst Armpit Orchestra (aka "EAO") will entertain those attending the Elmhurst St. Patrick's Day Parade.   This year's parade is scheduled to step off at noon on March 10, 2018 on Spring Road. The EAO plays familiar tunes on kazoos, bucket drums, vuvuzelas, cowbell, handzoo, stumpf fiddle and other unconventional instruments.
The EAO, featured on WGN radio and a segment with ABC channel 7 TV's Frank Mathie, is a perennial Parade favorite. Again this year, the group will feature the World's Largest Drum, built as a tribute to its inspiration, actor and comedian Bill Murray.   They are again hopeful Murray will attend the March 10th parade, and lead them down Spring Road.
Last year, the EAO named Colleen Sutherland the recipient of its annual distinguished service award and re-named the award in her memory. In addition to the Sutherland Award, this year, the EAO will present its inaugural Darrell Whistler Sprit Award. Both awards will be presented on March 10th. The 2017 EAO Queen, Jennifer Damer, will end her reign when the 2018 Queen will be named on Parade day.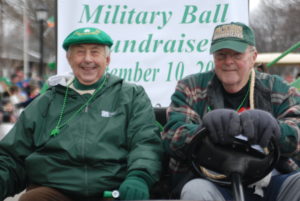 The 22nd Annual Elmhurst St. Patrick's Day Parade steps off at noon on Saturday, March 10, 2018 from Spring Road and Wilson Avenue in Elmhurst. For information about attending, sponsoring or entering the parade, please visit www.elmhurststpatsparade.com or call Parade Chair Jim O'Connor at his local garage door business at 630-834-0300.