Police officer helps citizen shovel
By Dee Longfellow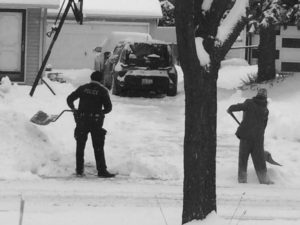 Last week, the Elmhurst Independent received a letter from Amy Lichon who lives on the 800 block of No. Indiana, about a police officer who helped her out during the Feb. 9 snowstorm!
"I thought I would share a few pictures of an Elmhurst Police Officer stopping to help my neighbor shovel her driveway this morning before 9 a.m.," Lichon wrote. "He was driving down our street, and turned around just to come back, park, and help her shovel. He wasn't even wearing gloves! I appreciated so much seeing him stop for no other reason than to serve his community."
After contacting Elmhurst Police Chief Michael Ruth, it was learned that the officer was Jack Schmidt, who was assigned to a North Elmhurst beat on Friday morning.
"Officer Schmidt is one of our newer officers who saw a resident in need, and took a few moments to render some assistance," Ruth said.
After commenting that he didn't even wear gloves, Ruth added: "He has gloves, but gloves can interfere with the radio and weapon, etc., so in cases when you are not out too long, the officers do not wear gloves or an outer jacket."
Thank you Officer Schmidt for helping out a local resident, and thank you Amy Lichon for bringing it to the attention of the community.