Things looking up for IC Catholic Prep boys basketball team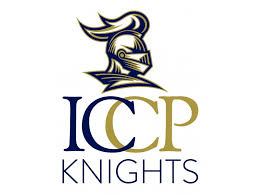 Knights coming off holiday tournament victory.
By Mike Miazga
Correspondent
The IC Catholic Prep boys basketball team has momentum on its side heading into the new year.
The Knights closed out 2017 by winning the IC Catholic Prep-Westmont tournament with a 4-0 record.
"We did a really nice job of putting a streak together and getting the championship," said IC Catholic Prep coach TJ Tyrrell.
The Trojans started the tournament with a victory against Elmwood Park. "We dominated the game from start to finish," said Tyrrell. "We got up by 30 points and tournament rules say when a team is up by 30 we play with a running clock the rest of the game. We played a lot of guys. It was a fun way and a good way to start out."
IC Catholic Prep then encountered a Chicago Latin School team that came into the tournament with two losses. "We went up against a very good Chicago Latin team," said Tyrrell. "They had bigger size than we did. We knew it would be close so we had to make sure that we got back on defense, boxed out and crashed the boards. It was a battle."
Tyrrell noted Khali Saunders was a key factor in the win against Latin and in other tournament games. "Khali had a very nice tournament. He had three double-doubles for us and was a key reason why we won the championship against Montini. It was a very fast-paced and physical game and Khali helped us."
The Knights then defeated Chicago Christ the King. "Christ the King was a good opportunity for us," said Tyrrell. "They are a Class 2A school as is Chicago Latin. We could see them in the sectional. They are an extremely athletic team. We let our defense dictate that game. We limited them in all facets. We packed it in with our man-to-man defense and took away what they do well, which is dribble-penetration."
That led IC Catholic Prep into the championship game against Montini. "We know Montini from the old Suburban Christian Conference and the Suburban Catholic Conference. It was fun to play them," said Tyrrell. "Montini is having an excellent year. They had two losses going into the game. They have size and athleticism and good outside shooting. It was a great test for us at this point."
Tyrrell said his team again played well on the defensive end in the final. "We did an excellent job of taking charges," he said. "Alex Meurer had two charges in the game. One was at a pivotal point in the game. He beat his man on the left side and got a layup and then on the other end got a charge. That's two big possessions for us. Alex has done an excellent job this season. He handles the ball very well and is an excellent shooter. He is very smart with his shot selection and his decision making."
Tyrrell again lauded Saunders, as well as Kevin Cheng. "Khali does a lot of other things for us other than his physical ability. He's doing a nice job with a lot of things," the coach said. "Kevin Cheng has been valuable as well. He's our leading scorer. Him, Alex and Khali all are right around 11 points. In the Montini game, they picked up the pressure against us and we struggled with that. Kevin did an excellent job of staying composed and breaking down the pressure defense."
IC Catholic Prep also excelled at the free-throw line in the tournament. "Another key in those last three games was free-throw shooting," said Tyrrell. "We did an excellent job at the line. If we can continue hitting our free throws, take charges, focus on defense and be patient on offense, we will be in a good position here down the stretch."
IC Catholic Prep was 11-4 overall through late last week. The Knights face Walther Lutheran Friday and St. Edward on Saturday. The game against St. Edward is IC Catholic Prep's annual Coaches vs. Cancer event that raises funds in the fight against cancer.
"It's a great community event that we get a lot of involvement in," said Tyrrell. "Boys and girls games go on all day and we all go to mass together at 5:15. There are silent auctions and other fundraisers. It's a great community event."