Firefighters respond to house fire at 815 N. Howard; no injuries reported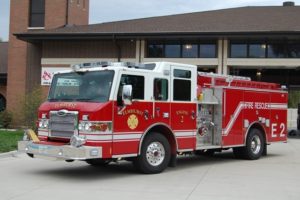 Firefighters respond to house fire at 815 N. Howard; no injuries reported
By Dee Longfellow
For the Elmhurst Independent
According to release issued by the City of Elmhurst by authority of Fire Chief Thomas K. Freeman, Elmhurst firefighters were dispatched to 815 N. Howard at 9:42 a.m. on Thursday, Jan. 4, for the report of smoke in the basement of a 1.5 story single family residence.
Upon arrival, firefighters along with mutual aid companies from Addison, Bensenville, Villa Park and York Center found smoke coming from the roofline. Early investigation indicated the fire may have started in or around the fireplace. The fire was extinguished at 10:27 a.m., the release said.
No firefighter or civilian injuries were reported. The residence has been deemed uninhabitable and the cause of the fire remains under investigation, Freeman said. No damage estimates were available at the time the release was issued.