Addison Trail wrestling team continues to improve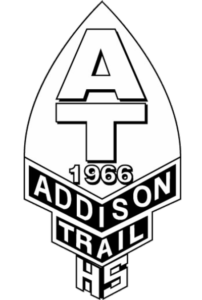 Blazers put together recent string of six wins in seven meets.
By Mike Miazga
Correspondent
The Addison Trail wrestling team has proof of its recent improvement.
The Blazers recently put together a great stretch where they won six of seven dual meets.
The Blazers were 54-18 winners over District 88 neighbor Willowbrook in a West Suburban Conference Gold Division meeting. Addison Trail also downed York by a 51-20 count.
The only blemish during the span was a loss to Downers Grove South in WSC Gold action. Addison Trail then defeated Fenton 49-24, Elk Grove 56-18, Glenbrook South 75-6 and Leyden 68-10.
The wins put Addison Trail at 11-3 through late last week.
"We've been doing pretty decent," said Addison Trail coach Rob Serio. "The kids are wrestling tough. The team has been doing well as a whole. For as young as we are we have the experience and we're going out there and wrestling well. They have that experience in wrestling and they know what it takes to win. They work hard."
Serio cited strong leadership as another reason for the team's success. "We have good leaders," he said. "Our captains do a good job."
Guillermo Juarez was 18-2 overall at 106 pounds through late last week. Brian Reyes was 21-3 at 138 pounds.
Others excelling for the Blazers include Adal Sanabria at 220 pounds where he is 14-6. Freshman Jake Matthews, who wrestles at 126 pounds, had an 18-3 mark to his credit.
Xavier Sierra was 14-9 at 170 pounds. "Xavier is doing pretty well out there as well," said Serio. "We have depth. The kids are doing a great job, they really are."
Addison Trail also had numerous high place-finishers at recent tournaments.
At the 20-team Glenbrook South tournament, Juarez took second at 106, while Matthews wrestled up at 132 pounds and took second as well. Reyes went up a weight at 145 and took fifth place.
At Prospect in early December, Juarez placed third, while Matthews was third at 132 pounds again. Reyes took third as well and Sanabria was runner-up at 220 pounds.
Addison Trail's only loss thus far in conference came to Downers Grove South. "That was a little disappointing," said Serio. "Things didn't fall for us. The kids wrestled tough in every match. We were right there, but it didn't end up our way. It was so close. Downers Grove South is a great team. Hats off to them, they wrestled a little better."
Serio added another key aspect to this year's team is its chemistry. "Our practices are not dull or boring," he said. "They aren't dreading to go to practice or just trying to make it through. They have a good time and they buy into what we are teaching them and they are improving. That is what makes a team good. They work hard, they want to be there and they are having so much fun, which is the most important thing."
Addison Trail wrestles Proviso East Friday and then heads to the Batavia tournament on Saturday.