Timothy Christian boys basketball team opens new arena with wi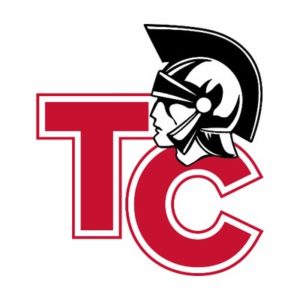 Trojans move to 4-1; Thomas pours in 22 points.
By Mike Miazga
Correspondent
Grand openings should have happy endings.
In the case of the Timothy Christian boys basketball team, there most certainly was a happy ending.
The Trojans were 60-57 winners against Chicago Christian in a Metro Suburban Conference Red Division game that signaled the official grand-opening of Timothy Christian's new competition athletic arena, the Ward Athletic Center. The game sold out the allotted 1,200 tickets.
The grand-opening celebration featured both the boys and girls varsity basketball teams playing, plus an appearance by the Jessie White Tumblers and Chicago Blackhawks National Anthem singer Jim Cornelison doing the anthem honors prior to the boys game.
"It was a good game in a great high-school environment," said Timothy coach Scott Plasier, whose team moved to 4-1 with the win. "It was a good way to open the new gym up."
Timothy benefitted from a strong start, opening a 17-5 lead after the first quarter.
"We got out of the gates really well," said Plasier. "The boys were really focused and got out to a good start. We defended well in the first quarter and made a bunch of shots. The first quarter set the tone for the rest of the game."
The Trojans were able to withstand a Chicago Christian comeback. "Chicago Christian made good adjustments and plugged away at the lead," said Plasier. "But our boys showed good resilience and we held on and got the win. We had a late steal that helped secure the game."
Timothy led 32-21 at halftime. Chicago Christian outscored Timothy 20-17 in the third quarter and 16-11 in the fourth quarter.
Michael Thomas led the Trojans with 22 points. He scored 10 of his points in the first quarter and had 16 by halftime. Thomas hit 10 of 15 shots (2 three-pointers).
"Michael Thomas had a really good game on both ends," the coach said. "He defended really well. He was locked on one of their best kids. He did a good job defending him and that energized his offensive game. He gave us a great lift from the get-go by making shots."
Brandon Orange added 14 points and 11 rebounds. Nick Huisman had eight points (2 three-pointers). Justin Baez also hit two 3-pointers for six points. Ty Merrick had six points and a team-high eight assists. Timothy shot 52 percent from the field.
Plasier said the 4-1 start has multiple roots.
"We've had different guys step up," he said.
Plasier lauded the play of Orange in particular over the first five games. "Brandon Orange has been consistent and has been key for us in establishing a post presence," he said. "We've also received good and consistent play from Nick Huisman, who has done a great job on the glass and a great job defending. We're starting to figure each other out as far as how our offensive game will play out. The guys are buying into everything. Even though it's the first five games, it's been nice to see us grow."
That growth extends to the defensive end as well
"Defensively we are growing," said Plasier. "We are showing some really good moments and the consistency on defense is getting a little better."
Plasier said the overall atmosphere for the arena festivities was off the charts positive.
"It was such a great night," he said. "The girls played before us and played really well and got a blowout win. And then you had the Jessie White Tumblers and Jim Cornelison singing the National Anthem. It was nice to see the guys come out and keep their emotions in check and come out with a win against a well-coached Chicago Christian team. It was a great way to cap off a really great evening."
The Trojans played Elmwood Park earlier this week and will face Walther Christian in another MSC Red Division contest Saturday.