Nine Charged in Theft From Sporting Goods Store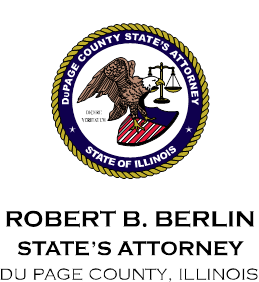 DuPage County State's Attorney Robert B. Berlin and Lombard Chief of Police Roy Newton announced today bond has been set for nine individuals accused of stealing merchandise in from Dick's Sporting Goods located in Lombard. Antwana Washington, 33 (d.o.b. 11/18/1984) of Chicago, James Hodge, 25 (d.o.b. 2/13/1992) of South Holland, Travis Jackson, 25 (d.o.b. 4/26/1992) of Chicago, Karizma Lawrence, 18 (d.o.b. 10/4/1999) of Calumet City, Tiana Smith, 18 (d.o.b. 3/10/1999) of Chicago, Stephanie Mitchell, 18 (d.o.b. 12/29/1998) of Chicago, Tia Jennings, 18 (d.o.b. 7/19/1999) of Chicago and Tashayn Ross 19 (d.o.b. 5/25/1998) of Chicago appeared in Bond Court this morning where Judge Joseph Bugos set bond at $10,000 with 10% to apply for each of them with the exception of Lawrence who was released on her own recognizance. An unidentified juvenile has also been charged.
            On December 20, 2017, at approximately 9:39 p.m., Lombard Police were called to the Dicks Sporting Goods store located at 810 East Butterfield Road in response to an alleged retail theft in progress. It is alleged that the above-named defendants, with the exception of Washington, entered the store and began selecting and concealing items about their person. It is further alleged that the individuals then exited the store with the items but proceeded to throw the merchandise into the parking lot once they observed squad cars with their lights on in the parking lot. It is alleged that the defendants entered two cars and attempted to flee the scene. It is alleged that the retail value of the merchandise is approximately $2,600. It is further alleged that Washington did not enter the store but instead stayed outside in her vehicle. It is alleged that Washington and three of the defendants fled the scene westbound on Butterfield Road and a high-speed chase ensued reaching speeds of up to 75 MPH in a 35 MPH zone on Roosevelt Road. This vehicle was apprehended in a parking lot after authorities used stop sticks to disable the vehicle. The vehicle containing the remaining defendants was apprehended at the scene.
            "The allegations against these nine individuals are outrageous," Berlin said. "It is also alleged that Ms. Washington drove her vehicle more than double the speed limit in an attempt to not get caught and in doing so put innocent people in danger. These types of brazen behavior will not be tolerated in DuPage County and will be met with the full force of the law. I would like to thank the Lombard Police Department for their work thus far and for their continuing efforts in this case as well as Assistant State's Attorney Dan Fawell for his work in preparing a strong case against each of these nine defendants."
            "The apprehension of the nine suspects in this felony theft is a fine example of the teamwork and professionalism that defines law enforcement in DuPage County," Chief Newton said. "The outcome of this incident is an example of what happens when agencies work together. These types of theft have become commonplace across the suburbs of Chicago. Would be offenders need to know that if they intend to commit these types of theft in DuPage county they will be apprehended and they will be prosecuted."
            Each defendant is facing Retail Theft (Class 3 Felony) and Burglary (Class 2 Felony) charges. In addition, Washington is facing one count of Aggravated Fleeing and Eluding, a Class 4 Felony. The next court appearance for each of the defendants is scheduled for January 16, 2018, in front of Judge Liam Brennan.
            Members of the public are reminded that this complaint contains only charges and is not proof of the defendants' guilt. The defendants are presumed innocent and are entitled to a fair trial in which it is the government's burden to prove their guilt beyond a reasonable doubt.
###