Update – Apartment fire in Bensenville claims one life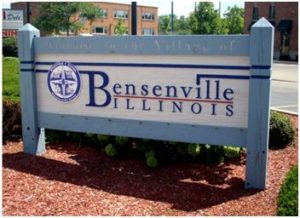 11/20/2017 11:41 AM CST
1 DEAD IN BENSENVILLE APARTMENT FIRE 2017-11-20 The DuPage County Coroner's Office, Bensenville and Fire Departments along with the DuPage County Arson Task Force are currently investigating a residential apartment fire fatality in Bensenville, Il.
Many residents displaced as officials declare building uninhabitable
By Dee Longfellow
For The Independent
Early Monday morning, the Independent learned that a fire had broken out at an apartment building located at 361 Marshall Road in Bensenville at about 6:15 a.m. Sunday morning.
Officials said the fire swept through the 18-unit building, killing one resident and leaving others homeless.
Bensenville Fire Chief Michael Spain said police arrived at the scene first and reported back to the fire department.
"The police then went in at the lower levels, the first level and the second level, knocking on doors to get people out, and then the fire department came in and took over the suppression and the search and rescue," he said.
An investigation into the fire is ongoing.  No other information was available at press time about the deceased victim, other than the person was male.  No age was provided. No other injuries were reported.
Spain said the Red Cross was at the scene as was Bensenville's Emergency Management Agency.
The fire destroyed the roof of the apartment building, part of a 10-building complex, and gutted several units on the upper floors. Spain said the building is uninhabitable.
The fire investigation will be handled by the DuPage County Tax Force in conjunction with the state fire marshal.