"Women of World War II: On the Front Lines & the Home Front" presented at area libraries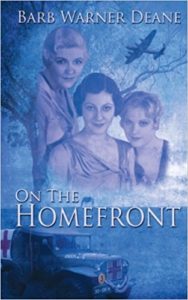 Elmhurst resident, Barb Warner Deane, author of "On The Homefront and Killing Her Softly," novels recently published by The Wild Rose Press, will be presenting a program entitled "Women of World War II: On the Front Lines & the Home Front" at several area libraries, including:
Monday, Oct. 2 at 7 p.m. – Homer Township Public Library
Wednesday, Oct. 11 at 7 p.m. – Elmhurst Public Library on behalf of the Elmhurst AAUW Barb Warner Deane will also be signing books at several upcoming book-signings and author fairs, including:
Saturday, Oct. 14 (10 a.m. – 4 p.m.) – For the Love of Books & Chicago book-signing at Pheasant Run Resort in St. Charles Saturday, Oct. 21 – 10 a.m. – 12 p.m.
Midlothian Book Fair & book signing at the Midlothian Public Library
Barb is a 1979 graduate of Watkins Glen High School, a 1983 graduate of Cornell University, and a 1986 graduate of the University of Connecticut, School of Law. She lives in Elmhurst, IL with her husband, Chris. With their three daughters, the couple lived in Frankfurt, Germany and, as empty-nesters, Barb and Chris lived in Shanghai, China.
Barb is a former employee of Elmhurst Community Unit School District #205, former York High School PTSA President, Board member of the Elmhurst District 205 Foundation, and long-time Girl Scout Leader. She currently works in IT at Hinsdale Central High School.
Barb's first published book, On The Homefront, a World War II era historical novel, was published by The Wild Rose Press on August 23, 2017. Killing Her Softly, a romantic suspense novel, is being published by The Wild Rose Press on September 29, 2017. Both books will be available in paperback at the events and are also available in paperback and ebook on Amazon and The Wild Rose Press, and, in e-book only, at Barnes & Noble.com.