Timothy Christian girls volleyball team reaches regional final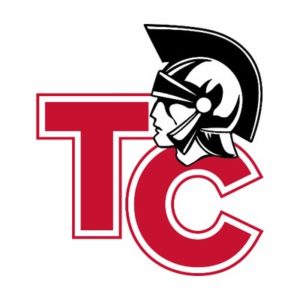 Trojans break 20-win barrier once again; Tracy Westra named MSC Red MVP.
By Mike Miazga
Correspondent
The Timothy Christian girls volleyball team saw its 2017 season come to a conclusion after a 27-29, 25-18 25-21 loss to host Fenwick in the championship match of the Class 3A Fenwick regional.
Tracy Westra had 25 assists, four kills and 10 digs. Heidi Westra had 12 kills, three aces and seven digs. Rachel Stoll had nine kills, while Abygale Ahn had nine digs and one ace.
"It was a really good match," said Timothy Christian coach Scott Piersma. "It got pretty crazy. We had a big comeback in the first set. We were down 24-20 and ended up winning 29-27. They held us at bay in the second set and in the third set we were up 11-8 and the wheels fell off a little bit, but not the whole way. We were down 21-12 after they went on a 13-1 run. That was a little bit on our end. We went flat and lost control a little bit, but we made a valiant comeback and scared them a little bit. We were pretty evenly matched. If both teams played well it was whoever won deserved it. It was nice to see us give everything we had. We certainly could have beaten Fenwick, but it was 50-50. We were evenly matched. The tough thing is we are hosting sectionals (this week) and if we beat Fenwick that would have been at least one more match on our home court. But this year the regional was very tough. Fenwick is a tough team."
Timothy reached the regional final after a 25-13, 25-9 win over Elmwood Park at Fenwick. Tracy Westra had 13 assists, two aces and six digs. Heidi Westra had 10 kills. Maggie Troxel had four kills and two aces. Emily DeBoer and Olivia Schuringa each had two kills.
The Trojans finished the season 24-13 overall and went 9-3 in Metro Suburban Conference Red Division play.
"24-13 is a good season," said Piersma. "We lost some big hitters from last year and Tracy Westra was out a couple of weeks for us and that hurt us record-wise, but it helped other girls realize they could step up and play other positions. Chicago Christian (which won the MSC Red) is a very good team. I could see them go downstate in Class 2A. We still had a strong season."
Rachel Stoll, DeBoer, Tracy Westra and Heidi Westra were named to the all-MSC Red team. Tracy Westra was named the MSC Red MVP, the second year in a row the Trojans have had the division MVP on their team (Kendra Teune last year). Everybody realizes what a talent Tracy is as a setter and on the court with her leadership for us. Teams recognized that and voted her MVP."
The Trojans lose five seniors from this year's team. "The problem is all five of them played a lot for us," said Piersma. "Tracy is going to be the big one. We've had a string of very good setters here. Developing that next setter is going to be the key. Heidi is back, which is very good. She realized a couple of ballgames into the season that she is the best player on the team. We're going to be very young next year and inexperienced. The good news is we have plenty of talent coming back. We'll see how we take to it at the beginning of next year."
Timothy won more than 20 matches for the fifth time in as many seasons under Piersma's direction.
Piersma also noted the Trojans will move to the MSC's upper division next year. The conference is undergoing realignment with some current schools leaving the conference and others joining.
"We will be in with St. Francis, Rosary, Chicago Christian, St. Edward, Aurora Central Catholic and Riverside-Brookfield," he said. "Unfortunately, the 30-win seasons for us are done. We're going to be facing some very good competition, but that will only help us for the postseason by playing these stronger teams all year."