IC Catholic Prep to host special fantasy football event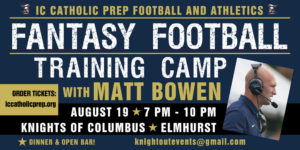 By Mike Miazga
Correspondent
The IC Catholic Prep football program will host a fantasy football training camp with Matt Bowen on Saturday, Aug. 19 from 7-10 p.m., at the Knights of Columbus Hall in Elmhurst.
The event will be led by ESPN analyst and former football player Bowen, who is an assistant coach on the IC Catholic Prep football staff. IC Catholic Prep is the defending Class 3A state champion.
Bowen will help attendees prepare for the 2017 fantasy drafts with detailed player breakdowns, rankings and projections. Along with a unique insider's look at NFL playbooks and schemes, Bowen will answer questions and provide feedback to help build a championship fantasy football season, the school said.
Tickets are $100 per person and includes a buffet-style dinner and an open bar.
There also will be two raffle drawings at the event. One raffle winner will receive a custom IC Catholic Prep bags set and a second winner will receive a YETI Tundra 75 cooler. Winners must be present to win.
Proceeds from the event go toward the funding of IC Catholic Prep football and other IC Catholic Prep athletic programs.
For questions about the event, contact Marya Gibbons at knightoutevents
@gmail.com. To purchase tickets visit www.iccatholicprep.org/athletics/athletic-events.