Grace Eloise (Cutler) Pottor, 96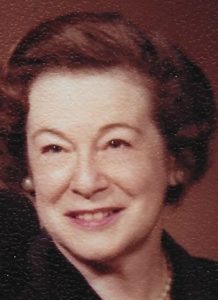 Age 96, passed away on August 4, 2017 at Alden Memory Care in Aurora; she will be forever missed by her family and friends, but she can now rest in a more peaceful and beautiful place. Born on May 18, 1921, to the late John Frederick Cutler and Edith Hilda Page, she lived on Mississippi Avenue in Dormont, Pa. with her younger sister, Doris Jane (Cutler) Harper. After the passing of their mother, their father remarried the late Mildred Dorothy (Underwood) Cutler who gave birth to Graces' brother, the late John Frederick Cutler, Jr. On August 3, 1946, Grace married the late George Ellery Potter and began their life together in Pennsylvania before settling and raising their two sons in Elmhurst, Illinois.
Survived by her loving and devoted son, Mark (Janis) Potter, she was preceded in death by her oldest son, George E. Potter III. She is fondly remembered as a Grandmother to Adam Potter, Cathy Potter (Dennis) Purnell, Jennifer Potter (Adam) Martinez and G. W. Potter, and a great grandmother to Bryanna, Lillian, Devin, Miranda, Mateo, Miquel and Marissa. Grace was a special aunt to Jack Harper and the late Nancy (Harper) Rich.
While raising a family in Elmhurst, Grace enjoyed the many friendships that drew people to her, and in her early years as a young mother, she was a beauty consultant to many. Later in her career, she was a legal secretary for several years to Pete Bates in Elmhurst, and she prided herself on her detailed accuracy with no reliance on computers or adding machines. Upon her retirement, her love of travel took her to such enchanting places as Greece, Turkey, and Mexico, but her most cherished destination was always spending time with her sister, Doris, in Pennsylvania. When not traveling, Grace looked forward to her gourmet food and bridge clubs, where she was the ultimate hostess welcoming her guests with laughter and good cheer, relishing in her circle of friendships. She thoroughly enjoyed retirement and maintained close relationships with her family and friends.
Upon the death of her husband, George, in 2002, Grace remained in Elmhurst before moving to Naperville where she lived independently for the last several years. She boldly, courageously and honorably carried on her life when moving into memory care, even as this insidious disease robbed her of her cherished memories and stole her from those she held dear. Grace is remembered as a loving and caring mother, mother-in-law, grandma, aunt, and dear friend who devoted herself to others. She will be missed by all.
The family wishes to express its most heartfelt thanks to the nurses and special staff at Alden Memory Care in Aurora whose tenderness and compassion these last weeks will not be forgotten.
Arrangements made by Ahlgrim Funeral Home, Elmhurst, Illinois. Donations may be made to the Alzheimer's Association.