Former banker accused of stealing more than $325,000 from elderly customers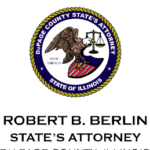 DuPage County State's Attorney Robert B. Berlin announced today that bond has been set for a former banker accused of stealing more than $325,000 from three bank customers. Christine Lange, 47, of 7442 W. 56th Place, Summit, appeared in Bond Court yesterday morning where Judge Brian Jacobs set bond at $250,000 with 10% to apply. On March 23, 2017, an arrest warrant was issued for Lange. Lange was apprehended on Saturday, July 30.
Lange was employed as an account executive at Trust Company of Illinois (TCI) located in Downers Grove. In her position with TCI, she had access to customers' bank accounts. It is alleged that from September 12, 2012, through June 9, 2016, Lange transferred money from the bank accounts of three TCI customers to her own personal bank accounts. It is alleged that Lange performed illegal transfers of funds on 84 occasions totaling $328,000. Lange's alleged scheme came to light when TCI performed an internal audit and discovered the alleged thefts. The victims in this case were in their early 90's.
"The elderly can at times be seen as an easy target when it comes to financial crimes," Berlin said. "Fortunately, personnel at TCI uncovered the alleged thefts and alerted authorities."
Lange's next court appearance is scheduled for August 21, 2017, for arraignment in front of Judge Robert Miller. In all, she is charged with four counts of Theft, three counts of Financial Exploitation of the Elderly, three counts of Financial Institution Fraud and three counts of Aggravated Identity Theft. Her most serious charge is a Class 1 Felony.
Members of the public are reminded that this complaint contains only charges and is not proof of the defendant's guilt. A defendant is presumed innocent and is entitled to a fair trial in which it is the government's burden to prove his or her guilt beyond a reas