Elmhurst Cycling Classic gears up for 5th year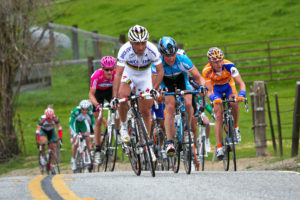 Plans come together for professional bicycle race in Collegeview neighborhood
By Dee Longfellow
For The Elmhurst Independent
It's almost time for the 5th Annual Superior Ambulance Elmhurst Cycling Classic, which is coming to town on Friday, July 21 in the neighborhood surrounding Elmhurst College. The day features Pro-Am Racing under the stars.
Besides Superior Ambulance, other Presenting sponsors of the event include Storino, Ramello and Durbin Attys. At Law, Edward-Elmhurst Healthcare and Christopher B. Burke Engineering, Ltd. Other sponsors are Alpine Creek Dental, Barbecue Jim's Catering, Berkshire Hathaway, Bicycle Paper Designs, Brain Freeze, Brewpoint Coffee, Brightleaf Homes, Chartwells, DuPage Cycling Foundation, Elmhurst Chamber of Commerce & Industry, Elmhurst College, Enzos Cycling Products, Explore Elmhurst, Fleet Feet, HB Jones, Horn-McGowan Insurance Agency, J&R Cycle, Kilwins Chocolates, MCO Motor Cycle Center, Mehta Motors, Oakbrook Eyecare, Olympia Chiropractic, Pints, Roesch Automotive Group, Schamberger Brothers and Tail Gate for Dogs.
Volunteers needed
The race needs many volunteers and offers a short training session to get you started. Volunteers must be at least 18 years of age as of the day of the race and must fill out a USAC Race Volunteer Liability waiver, available at the web site.
Volunteer shifts are as follows:
Shift 1a: Arrive at 8 a.m., end at 10:30 a.m.
Shift 1: Arrive at 10:20 a.m., end at 2:30 p.m.
Shift 2: Arrive at 2:10 p.m., end at 6:20 p.m.
Shift 3: Arrive at 6:10 p.m., end at 10 p.m.
Shift 3b: Arrive at 9:45 p.m., end at 10:30 p.m.
All volunteers receive a t-shirt and a meal ticket.
The Olympia Chiropractic Family Fun Ride
Families with kids of all ages are invited to come out for a fun bike ride around the professional course of the Elmhurst Cycling Classic bike race. You can choose to decorate yourself or decorate your bike. There will be on-the-spot prizes for best-themed riders at the finish line. All riders will be cheered on by the crowds as they ride the 1.2 mile course around Elmhurst College.
Presented by the Elmhurst Park District, the ride begins at 6:20 p.m., right before the professional women's and men's races.
It is held on the same course used by the pros around Elmhurst College. Participation is FREE for pre-registered* riders. Day-of registration is $5 per rider. Pre-registered riders are entered into a drawing to win prizes.
Check-in and day-of registration will take place at the Wilder Mansion north parking lot from 3 – 6 p.m.
Staging for the family fun ride is in the cul-de-sac in front of the Elmhurst Park District Rec Building. Be ready to roll at 6:10!
For more information about the race, visit elmhurstcyclingclassic.com*.
For residents along the race route…
First of all, the race organizers thank you for your cooperation and support of this event.
Portions of Prospect, Alexander, Grace and Elm Park Avenues will be closed to serve as the race course throughout the day on Friday, July 21. We recognize that street parking and driveway access will be limited on that day. Accordingly, a parking plan for residents has been created which directs residents to alternative parking areas. Volunteers will be located around the course and in Wilder Park to assist you all day. Also, a cart will be available for residents needing special assistance. The Parking Plan will be delivered to your home prior to the race.
If you will need your car on July 21st, please move it outside the race loop prior to 10:30 a.m. (see map at web site). The course will re-open shortly after the Pro Men's Race finishes at 10 p.m. We will provide an overnight parking permit should you choose to move your car outside the race course the night before (Thursday, July 20). You may also leave your car outside of the course overnight on Friday, July 21. Place the permit on your dashboard.
You cannot drive on the course during the race. It is simply too dangerous.
Prizes for block parties
Join your neighbors for cook-outs and parties to watch the racers go by your house. Many residents use this day as an opportunity to have friends over or host parties. Members of the Elmhurst Cycling Classic Committee will be visiting residents who have block parties underway to supply race goodies. Be sure to walk to Wilder Mansion for the finish of the race.
Join in "Light Up The Block," a pre-race neighborhood competition. In addition to bringing world class bicycle racing to town, the Elmhurst Cycling Classic is offering a chance to show off your chops by decorating your house, yard, trees, even your dog! It's all designed to make the racecourse the coolest nighttime course ever, organizers said.
The Prize Patrol will be pulling the prize wagon along the course the night before the race on Thursday, July 20 so be ready! It will be loaded with prizes and what will surely be the gaudiest and most coveted trophy in town. Prizes include City Centre gift cards, a yard sign for the winning location and a gaudy trophy delivered with pomp and circumstance.
Bike to the race
To avoid parking challenges, visitors are urged to bicycle to the race. The Elmhurst Bicycle Club will be hosting a free Bike Valet inside the fenced tennis course in Wilder Park. Leave your car at home and ride your bike to the race, knowing you'll have a secure place to leave it.