Addison's "Rock 'N Wheels" celebrates weekly summer concert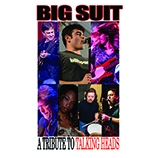 Addison's "Rock 'N Wheels" weekly concert and food fest events continue on Thursday, July 20 at the new Village Green, 1 Friendship Plaza, east of the Village Hall. Included in the festivities will be a concert, food fest, bike & car show, with Historical Museum craft fair.
From 6 – 10 p.m., the Rock N' Wheel Concert is featuring music from the "Big Suite," a Talking Heads tribute band on the 95.9 The River "Rock 'N Wheels" stage, starting at 7:30 p.m. Plus, "Space Face," featuring the music of David Bowie at 6:30 p.m.
The food theme is "Mangiamo Italiano," with delicious Italian menu items for sale by Addison restaurants; Muggs-N-Manor, Nardi's, Rosati's, 601 Bar and Grill, Alta Villa, Zio Tony's, Uncle Harry's Ice Cream, and Millie's Pancake Shoppe.
Community partners are Addison Fire Protection District, Addison Historical Society, Addison Public Library, Addison Park District, Addison Early Childhood Collaborative, Addison Township Democrats, and Veterans of Foreign Wars Post 7446.
Cruise night cars are invited to park along Army Trail Road, east of May street. Car show entry closes at 7:30 p.m., or when full. Motorcycle parking is also available until full. The Historical Museum, south of the Village Green, hosts a fair and tours of the museum until 8 p.m.
For the entire schedule of events visit; ItHappensInAddison.com.