Beverly Jane Richardson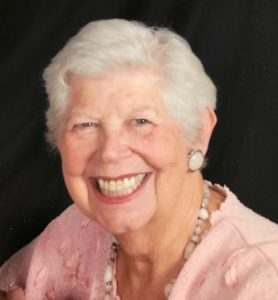 Beverly Jane Richardson (nee Mason) passed away peacefully on Saturday, June 10, 2017 at her residence in The Creste at Village Pointe Commons, Grafton. Wisconsin. She is survived by her devoted husband of 60 years, Jack D. Richardson, and daughters Carol (Dan) Richardson McCoy of Mequon, WI and Julia (Eric) L. McNally of Grafton, WI, as well as her grandchildren Carly and Jamie McCoy and Eva and Chase McNally. She was preceded in death earlier this year by her daughter, Lori Ann Richardson. She is also survived by her sister-in-law Virginia Mason, her cousin Mary Lou Cain, and three nephews William, Richard, and Bruce Mason, as well as many loving cousins and dear friends.
Beverly was born in Galesburg, Illinois in 1928 to John and Eva Mason, and had two older brothers, John Mason and Lloyd Mason, and a sister Shirley, who died very young. She graduated from Knox College in 1950 and went on to receive her graduate degree in Physical Therapy from the University of Iowa in 1952. After graduation, she took a position at the University of Texas Medical Center in Galveston, where she worked in the Shriner's Burn Center and Orthopedics department. In 1956 after a short stay in Kokomo, Indiana, she took a position at the Shriner's Hospital for Children in LaGrange, Illinois, where she treated many orthopedic impairments and post-surgical polio patients.
In 1957 Beverly was introduced to Jack Richardson by her brother Lloyd, who lived across the street. Beverly and Jack were married on May 4, 1957, and later became long-time residents of Bensenville. Beverly worked for many years as a Pediatric Physical Therapist at Edison School in Elmhurst, Illinois. In 1980, Beverly was named the Therapist of the Year by the Illinois Teachers of the Physically Handicapped. She was the first therapist to ever win the award. In 1985 at age 57, she started her own company "TherAdapt" to design and manufacture adaptive equipment for children with special needs.
In 2007, Jack and Beverly relocated to Cedarburg, Wisc., to be closer to family. They enjoyed their time living in the community of Cedar Reserve, as well as the past few years as residents of Lasata Crossings, before moving to Village Pointe Commons earlier this year. They were warmly embraced by the congregation and both Pastors Franz Rigert and Ashley Nolte at Pilgrim UCC, as well as Pastor Janis Kinens at his Lasata worship service. Sincere and heartfelt thanks go out to the staff at Village Pointe Commons and Heartland Hospice, as well as friends and staff at Lasata Crossings, and especially for their caregiver Rita Brounson, for their assistance and loving support during Bev's journey.
Beverly's kindness and compassion were an inspiration to all who knew her. Her gentle and inclusive spirit brought people together. Her faith was borne out in her actions, serving and loving others wholeheartedly throughout her life. Her presence on this earth will be keenly missed now and always.
A celebration of her life was held Saturday, June 17, 2017 at Pilgrim United Church of Christ, Grafton, WI at 2 p.m. The family received guests from 1 p.m. until the time of service, while the committal immediately followed at Woodlawn Cemetery in Grafton, Wisc. Mueller Funeral Home of Cedarburg, WI assisted with the arrangements. In lieu of flowers, please honor Beverly's memory via a donation to the ASPCA, as Beverly took in countless stray dogs and cats throughout her lifetime, encouraging her daughters to do the same. For online condolences please visit muellerfuneralhome.com