"Cop on Top" Special Olympics Fundraiser Friday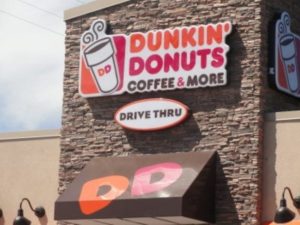 Look for cops on top of Dunkin' Donuts outlets
For the past 15 years, police officers from throughout the state have "staked out" Dunkin' Donuts rooftops in May to heighten awareness and raise donations for the Law Enforcement Torch Run to benefit Illinois Special Olympics.
In return for the police officers "doing time" at their stores, Dunkin' Donuts will donate to the Torch Run fund. Everyone who visits the Elmhurst "Cop on Top" event that day and makes a donation to the Torch Run receives a free donut. Those who donate $10 will receive a Law Enforcement Torch Run travel mug (while supplies last). The mug can be filled at participating Dunkin' Donuts stores, free of charge, throughout the day of the event. In addition, people who donate $5 will receive a pin and for $15, the choice of a t-shirt or hat.
Last year, the Elmhurst Police Department raised approximately $5,000 for Illinois Special Olympics. Please help them surpass that amount this year by making a donation. On Friday, May 19 between 5 a.m. and 12 noon, members of the Elmhurst Police Department and the Elmhurst Citizen's Police Academy Alumni Association will be accepting donations at two Dunkin' Donuts locations in the City of Elmhurst. The locations are: 936 N. York Street and 195 E. Butterfield Road.
If you are unable to make it to Dunkin' Donuts that day, donations can be mailed or hand-delivered to the Elmhurst Police Department, Attn: "Cop on Top", 125 E. First Street, Elmhurst. Please make checks payable to "Special Olympics Illinois." For more information, call 630-530-3050.