Conroy moves to ban deadly synthetic opioid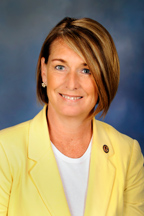 As the opioid epidemic tragically continues to take lives across Illinois, state Rep. Deb Conroy, D-Villa Park, is carrying legislation to classify the synthetic opioid U-47700, also known as "pink" or "U4" as a Schedule I substance. This designer drug, which has been available over the internet, is seven times more potent than morphine and has contributed to at least 46 deaths nationwide.
"DuPage County has seen a tragic spike in heroin-related deaths over the past two years, with 78 heroin overdoses reported in DuPage in 2016 alone," Conroy said. "It's vital that our laws keep up with new, synthetic versions of heroin and opioids such as U-47700 to keep criminals from distributing these deadly substances in our community."
The federal Drug Enforcement Agency enacted a temporary ban of U-47700 in January 2017. Conroy's legislation would permanently codify its status as a Schedule 1 substance in Illinois law. U-47700 is a synthetic opioid more than seven times stronger than morphine and may also be found combined with other drugs such as heroin or fentanyl.
"Working with law enforcement, medical providers, schools and members of our community to increase awareness and education about the opioid epidemic has been an issue close to my heart," Conroy added. "As a mom, it is heartbreaking to hear the stories of young people who have lost their lives far too soon. The reality is that these drugs are in our communities, in neighborhoods that we consider to be safe places to raise our families. No one is immune. The opioid epidemic affects all of us whether we know it or not, and I will continue to support legislation that protects our kids from drugs."