Raja leads bipartisan coalition to urge Federal agency to continue western access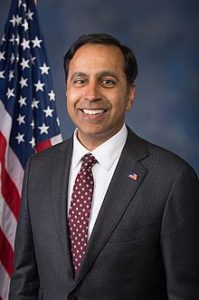 O'Hare project would create 65,000 permanent jobs, reduce congestion
Congressman Raja Krishnamoorthi last week sent a letter co-signed by 21 community leaders urging the U.S. Surface Transportation Board to approve the Tollways' petition to allow continued construction of the Elgin O'Hare Western Access Project. Among the signatures was DuPage County Chairman Dan Cronin.
Rep. Krishnamoorthi began circulating the letter after his jobs summit on Tuesday, April 11, which focused on the project's huge economic benefits. The Illinois Governor's Advisory Council estimates that approximately 65,000 permanent jobs will be created through completion of the project by 2040, in addition to other benefits such as reduced traffic congestion in communities surrounding the airport.
The letter read as follows:
"We write to express our serious concern regarding the matter referred to above, currently before the Surface Transportation Board and brought by the Illinois Toll Highway Authority ("Tollway"). In its petition, the Tollway seeks declaratory judgment that exercise of state law eminent domain authority to acquire permanent and temporary easements for the construction of five bridges over railroad tracks in the vicinity of O'Hare International Airport ("O'Hare") is not preempted by the Interstate Commerce Commission Termination Act, 49 U.S.C. ss 10101 et seq.
"The specific subject of the Tollway's petition, the Western Access Interchange, is an integral component of the broader Elgin O'Hare Western Access Project ("EOWA"), and is part of the O'Hare Modernization Plan ("OMP").  The EOWA and OMP (which includes construction of a new terminal requiring a western entry point into O'Hare) are projected to greatly improve freight and passenger access to the airport by providing western access to O'Hare, and provide other transportation benefits for passenger and freight transportation in and around the Chicago area.  Additionally, the Illinois Governor's Advisory Council estimates that approximately 65,000 permanent jobs will be created by completion of EOWA by 2040, nearly seventy percent of which would locate in the communities west of O'Hare.[1]  The United States Department of Transportation recently designated EOWA as a Project of National and Regional Significance due to its impact on the regional economy and the execution of other national priorities.
"Mindful of the significant economic benefits this project will bring to our communities, businesses and the region at large (and nationally, insofar as it is a continuation of improvements to an airport of critical importance to our national air transportation system), we wish to express our full support for EOWA and the Tollway's efforts in seeing this multi-year project completed as soon as resolution of this issue, and construction of the roadway, permits."