Obituaries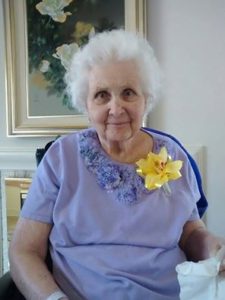 Shirley Mae Scaggs, 90
Shirley Mae Peterson Scaggs passed away on March 28, 2017 at the Oakbrook Healthcare facility in Oak Brook at the age of 90 due to complications with pneumonia. She had been surrounded by her loved ones during her illness and passed quietly on her own terms. Our hearts ache for her but we are glad she is with loved ones in Heaven and free of all pain.
She was preceded in death by her beloved husband of 56 years, Jack D Scaggs and beloved son Ralph Scaggs. She is survived by her daughters, Sheila Scaggs and Dale Scaggs Brash Freda; grandchildren, Roy Freda, Shirley Freda, Jessica Freda, Erica Brash, Timothy Scaggs, Heather Scaggs-Benda; and, her great-grandchildren, Brittany Benda, Alexis Benda, Logan Benda, Jack E Scaggs, Tyler Scaggs, Luz Sanabria and Sara Sanabria.
Shirley met and married the love of her life, Jack Scaggs in Chicago. They enjoyed a wonderful life together with travels far and wide across the continental US, Alaska, Hawaii, Canada, Mexico, Caribbean and Europe. In their later years, their greatest love was their home in Waupaca, Wisc., where they spent their summers at the lake with friends and family.
Shirley loved being around people and helping them, when the family moved to Elmhurst, IL in the late 1960's, she retired from teaching and started a very successful real estate career. She was also active in the Elmhurst Women's Club.
Shirley was always a very positive person who would not want to be remembered with tears, she had expressed her wish to have a party and cake on her passing. There were few things Shirley like better than to enjoy lunch out with friends and family. To honor that wish, her family held a memorial lunch at one of her favorite places, the Clubhouse Restaurant in Oakbrook on Saturday, April 8. And yes, cake was served! Information was provided by family members.
Kevin M. Walden, 55
Kevin M. Walden, of Elmhurst, passed away recently at the age of 55. Close companion of Kathy Husick; dear son of the late Walter and Virginia Walden; brother of Terry Walden, Cathy (the late Mike) Vandercreek, Brian (Linda) Walden and the late Mark Walden; brother-in-law of Mary Walden; uncle of 10 nieces and nephews; cousin of many. Kevin attended Visitation School and York High School. He had a love for life and the outdoors and enjoyed animals and fishing. He was caring and compassionate and his family and friends were very important to him. He was the animated life of the party and was loved by all. Funeral Mass was held Tuesday, April 11, 2017 at Visitation Church, 779 S. York St. Private interment at Queen of Heaven Cemetery. In lieu of flowers, Memorials will be appreciated for the Gift of Hope, 425 Spring Lake Dr., Itasca, IL 60143. Funeral information provided by Ahlgrim Funeral Home. For more information, call 630-834-3515 or visit ahlgrim.com.
Doris Landay, 79
Doris Kasen Landay, from Lombard, formerly from Munster, Ind.), passed away on April 1, 2017, at the age of 79. She was predeceased by her husband Marshall Landay of 56 years and her beloved son Paul. Doris was born on April 30, 1937 in Tel Aviv, Israel to Jacob Kasen and Rachel Sidranski. After immigrating to Chicago with her parents at age 7, she grew up in Pittsburgh, making lifelong best friends with Mickey Goldstein Kaufman and Roz Cohen Walker. Doris graduated from Allderdice High School, received her LPN at University of Pittsburgh, and RN at Saint Joseph's College. She was a dedicated nurse for more than 40 years and for much of that time had her dream job working in Neonatal Intensive Care, most recently at Community Hospital in Munster. Doris was also a dedicated sisterhood volunteer at Temple Beth-El. Since moving to Illinois to be closer to her family, she lived at Sunrise Independent Living, where she made many wonderful friends and continued to enjoy life. She was an amazing mom and grandmother. The biggest legacy that Doris has left with us is her constant smile, giving nature and unwavering resilience. Anyone who has spent time with her always remembers her generosity. Burial to take place in Pittsburgh early June. Doris is survived by her daughter, Carol Landay (Pete) Zich and their children, Lara and Rachel Zich, her son Richard (Rebecca) Landay and their children, Ian and Kyra Landay, her adored pets Snow White & Casey and collection of frogs.
Memorial donations may be made to SCAD Research Inc. at scadresearch.org/donate/ or 10115 E. Bell Rd, Ste 107-127, Scottsdale, AZ 85260. Arrangements by Ahlgrim Funeral Home. For more information, call 630-834-3515 or visit ahlgrim.com.
Benjamin Dochoff, 90
Benjamin George Dochoff, 90, of Elmhurst, passed away recently at the age of 90. Beloved husband of Shirley Mae Dochoff nee Franklin; father of Seine (Melody) and Erick (Karin); grandfather of Maecy, Harrison, Cole, Anders and Finn; dear son of the late George and Elizabeth Dochoff; brother of George Dochoff and Rose Brudnicki. He was a WWII Navy Veteran. He made his career as an air freight sales agent. Also, he worked at Elmhurst College in Campus Security for 28 years, retiring at age 80. Memorial Service was held at Epiphany Evangelical Lutheran Church, 314 W. Vallette, on Saturday, April 8, 2017. Interment Private. In lieu of flowers, Memorials will be appreciated for the Greater Chicagoland Food Depository, chicagosfoodbank.org; or Salvation Army, salvationarmyusa.org. Arrangements by Ahlgrim Funeral Home. Info 630-834-3515 or visit ahlgrim.com.
"On Friday, March 31, 2017, God reached down and gently took my father's hand and helped him through the door into His house. Now he is walking eternally in God's most wondrous gardens." – Seine
Mary Jean McGee, 85
Mary Jean McGee nee Stuhr age 85, Beloved wife of the late Leo, loving mother of Patricia (Jay) Krush, Janice (Patrick) DePew, David (Pamela), Barbara Steffens, James (Susan), Kathleen (Jeffrey) Berchtold, Carol (John) Morris and Joseph (Julie Johnson) McGee, dearest grandmother of 20, great grandmother of 6, dear sister of Carol Agster and the late Thomas (Mary Survives) Stuhr, fond aunt of many. Funeral Mass was held on Monday April 10, 2017 at St. John the Apostle Church, 330 N. Westmore, Villa Park. Interment Queen of Heaven Cemetery, Hillside. For more information, call or 630-832-4161 or visit steuerlefh.com.