Obituaries
Alicia J. Brackmann
Alicia Brackmann (Pietrzyk), longtime Elmhurst and Villa Park resident, passed away on March 27, 2017, at the age of 76. Beloved wife of the late James Brackmann, she is survived by her loving daughter Leslie (Greg) Seei, grandchildren Tanya Boutin & Marc (Amanda) Boutin, great-grandchildren Sabrina Miller and Beau Boutin, and sister Dee (Donald) Bender, along with a devoted extended family and friends. She was preceded in death by her parents, Anthony & Joanne Pietrzyk.
Born November 8, 1940, Alicia loved to dance, sing and paint throughout her life. She was an avid reader and enjoyed nature and animals. Her favorite color was purple, and she was always looking for the perfect Singapore Sling. She wished to have her life celebrated instead of mourned.
A private service will be held for close friends and family on April 29, 2017 at the Morton Arboretum. In lieu of flowers, donations in Alicia's name to the Morton Arboretum tribute program are appreciated (https://giving.mortonarb.org/tribute).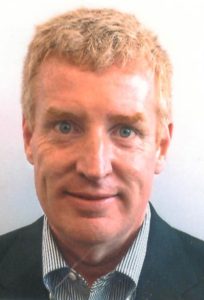 Michael Kelly. 49
Michael Reardon Kelly, of Hinsdale, formerly of Elmhurst, passed away recently at the age of 49. Cherished son of Michael A. and Marisue Kelly, nee Reardon; dear brother of Kevin (Jill Earnhardt) Kelly; devoted nephew, cousin and friend to many. Funeral Mass was held Saturday, April 1, at St. Vincent Ferrer Church, Lathrop and North Ave., River Forest. Interment St. Mary Cemetery, Elmhurst. In lieu of flowers, donations to Alexian Brothers Hospice Center at alexianfoundation.org/2016-make-a-gift or Wellness House at wellnesshouse.org/donate-now/tribute-gifts/ are appreciated. Funeral arrangements provided by Drechsler, Brown & Williams Funeral Home. For more information, call 708-383-3191 or visit drechslerbrownwilliams.com.