City to share proposed downtown zoning changes with public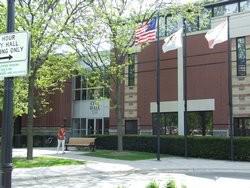 The City of Elmhurst will host an Open House event  Monday, March 13 from 5-7 p.m. It will take place at City Hall, where the public can receive information regarding proposed downtown zoning changes.
In June of 2016, the City of Elmhurst adopted a new Downtown Plan, designed to present a vision for the year 2025, providing goals, objectives, and other recommendations of action to be undertaken by the City to maintain downtown as an attractive and vibrant city center. To realize the vision set forth in the plan, the plan identifies and recommends changes to the city's zoning ordinance and development procedures and processes.
"The proposed zoning changes are consistent with the recently adopted Downtown Plan," said Eileen Franz, the City's Assistant Planning & Zoning Administrator. "The public is invited to the Open House meetings where we will explain the changes and what the rezoning means for the downtown."
Following the meeting, a Public Hearing will be held for the proposed zoning changes recommended in the 2016 Downtown Plan Thursday, March 23 at 7 p.m., also at City Hall.
Detailed information about the proposed zoning changes and a copy of the 2016 Downtown Plan can be found at Elmhurst.org.